SRNA is working hard to bring major traffic improvements to Four Points and Steiner Ranch – help support us –  donate now.
URGENT ACTION NEEDED:
Public Hearing – October 26, 2017 – Please Attend
SRNA Traffic Primary contacts: Brian Thompto, H. Lobdell, William Farrell
Questions or suggestions about traffic? Contact us.
Map Images (c) GoogleMaps.
Status Quo: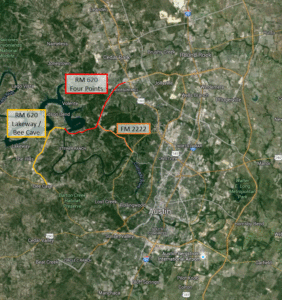 Traffic conditions/forecast: RM 620 corridor in West Austin has become of the most congested roadways in the Austin metropolitan area due to the topographically constrained nature of the corridor and significant growth in residential and business development. Significant growth in the NW and SW areas of Austin add to the traffic congestion because of RM620's status as the only major north-south connector in West Austin. The RM-620 / FM-2222 intersection has become a particular bottleneck due to its similar status as the only major east-west corridor tying together RM 620 with the city center.
TXDOT projects that traffic grades of service along the corridor which are already in a "failing" state will continue to worsen – along with wasted hours and reduced mobility within a few short years along major stretches of RM 620 and the adjoining FM 2222.
The CAMPO 2040 Plan Study highlighted RM 620 as the number one most cited roadway of concern in the Austin Metro Area based on the Public Input process.
Projects / solutions summary: TXDOT has proposed a solution to address near term conditions near RM 620 and FM 2222 – the project includes expanding FM 2222 through the critical section near RM 620 through McNeil Road, widening the River Place Blvd / FM 2222 intersection to allow concurrent left turns,  and also includes bifurcating the RM-620 / FM-2222 intersection by creating a new bypass road between south RM 620 and easterly FM 2222. The combination of these improvements is expected to provide significant relief to the RM 620 corridor and is the most critical project along the corridor.  The project is currently in the environmental phase of study and may be ready for construction by 2019.
As of October 2017,  project is officially funded thanks to a combination of State of Texas dollars and the $7.5 million from the voter approved Mobility bond in November 2016 from the City of Austin.
Additional TXDOT studies have been conducted to identify other solutions for RM 620 to address the dire congestion forecast along other segments of the corridor and to provide a longer term solution for the RM-620/FM-2222 and RM-620/Anderson-Mill intersections. This study has proposed a two part solution which includes expanding RM 620 by one lane in each direction to a 6 lane divided highway with a second (and possibly concurrently built) phase to include elevated express lanes. Combined, these two solutions would provide necessary relief for the corridor looking toward the 20 year horizon. Without these two changes, corridor conditions will continue to deteriorate. Study results here:
Political Support: 
Central government stakeholder support is critical for beginning the necessary and proposed solutions for the RM-620 corridor. Key stakeholders include:
State of Texas / TX-DOT

Both Rep. Paul Workman and our TXDOT area engineer Terry McCoy – have shown strong support for the RM 620 corridor projects. Funding for the 2222 / 620 project has now been secured. TXDOT has shown a willingness to partner with local governments in funding projects such as those proposed for RM-620. The longer term RM 620 improvements will need to make it on TxDOT's list to make progress.

Travis County

Travis County has shown support for the RM-620 bypass project. Both Commissioner Daugherty and Commissioner Shea were favorable toward implementation of this proposal. Travis County will be an important partner looking forward to future RM 620 improvements.

City of Austin

The city of Austin stepped up with Mobility Bond support in the fall of 2016 for the 620 / 2222 project.

Williamson County

Williamson County has previously shown support for RM-620 improvement projects but is currently focused on many other projects internal to the county.
Overall Strategy:
We have a coalition of support for the RM-620 bypass and longer term RM-620 improvements. Key stakeholders as follows:

Business Community / West Austin – Four Points Chamber
Neighborhoods – A coalition of neighborhoods has been formed and has shown support for the projects – the "Four Points Neighborhood Coalition".
Schools – LISD, Concordia have shown support for improvements
Emergency Services including ESD #6, City of Austin fire/police, Travis County Sheriff and Constable.
Health care providers including regional medical centers

Educate public on transit improvement plans.
Engage with office holders and political decision makers.
Petition governments to support and fund the plan of action.
Detailed Project / Solution Summary:
RM 620 / FM 2222 intersection and related improvements:

This project, which has also been known as the "FM 2222 expansion" or "the 620 bypass" will address the critical congestion which occurs at the intersections of:
RM 620 / FM 2222 – this intersection is the only connector between West Austin / RM 620 corridor and other parts of the City of Austin to the east.
River Place Blvd. – Four Points Drive / FM 2222 – this intersection sees all east-west traffic along FM 2222 and must provide access to residential, business and retail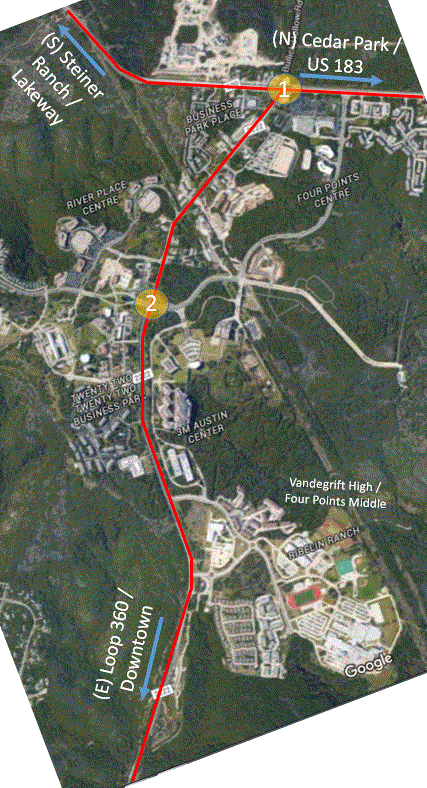 The RM 620 / FM 2222 intersection improvement is really a 4 part fix – when put together we will see a significant expected reduction in traffic congestion:
Expand FM 2222 to add a lane in each direction from McNeil Dr to west of River Place Blvd.

This provides 50% greater traffic throughput (3 lanes vs. 2) in each direction.

Expand the FM 2222 / River Place Blvd intersection to allow concurrent lefts

This frees up valuable green time for traffic in all directions
Shortening waits for both neighborhood traffic and main flow traffic

Bifurcate the RM 620 / FM 2222 intersection with separate traffic flowing  north vs. south

This allows for significantly higher efficiency managing the traffic vs. a single intersection
Heading eastbound on FM 2222, traffic would be able to flow concurrently from the north and south.
Heading westbound on FM 2222, traffic would split at two different points reducing cross traffic.

Add additional lane to RM 620 northbound toward FM 2222 that will connect to FM 2222 through a new connector.

This will allow traffic heading eastbound to flow independently from traffic heading northbound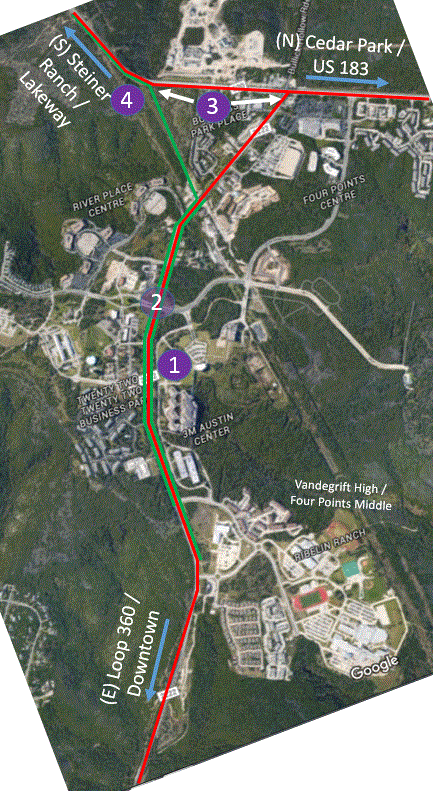 TxDOT estimated hours saved each year from this improvement: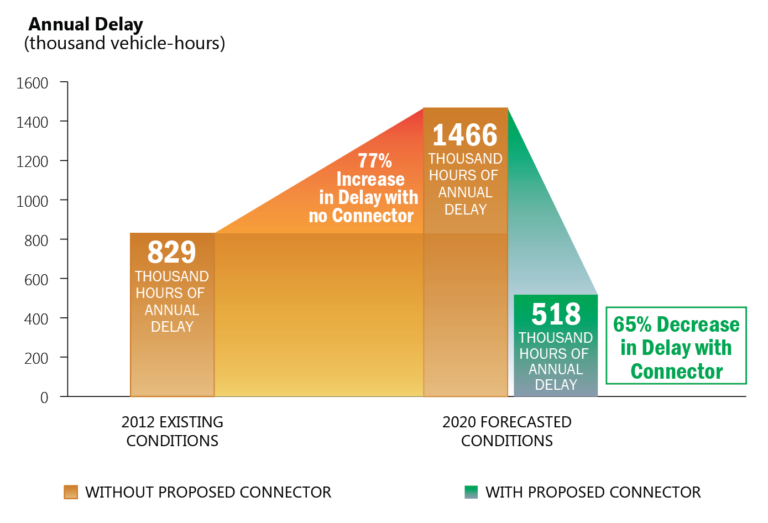 Timeline: 2019 construction.
Funding Status: Secured
CAMPO Status: In CAMPO 2040 Plan.
Adaptive Signaling Improvements:
Signal timing is critical to maintain non-freeway traffic flow – the status quo in West Austin. Signaling cannot alone fix congestion when demands exceed capacity – therefore signaling along cannot fix out traffic problems in Four Points – one of the most congested places in Austin. However, traffic signaling can play a major role in mitigating traffic congestion and can have a very positive influence on quality of life by reducing the duration and severity of traffic back-ups when they do occur such as after rush hour.
Standard signaling uses timers and sensors to control the traffic flow using pre-programmed timings. But as soon as traffic gets severely backed up, standard signaling breaks down – because the controllers cannot sense what the problem is.
With recent advances in technology, it is now possible to measure how backed up traffic is. This means that traffic signals can adapt to current conditions.
Have you ever waited for  5 or even 20 minutes to get to an intersection just to find out that traffic from other directions is NOT backed up? This is exactly what adaptive signaling technology can address. By automatically extending the signal timings for the direction of traffic experiencing the most significant back-ups – unnecessary waiting can be avoided. This can significantly cut down the time in which rush hour is an issue and can eliminate unnecessary backups on weekends and at other times when signaling is sub-optimal.
RM 620 is a prime area to apply adaptive signaling technology. For example, to ease backups at RM 620 intersections with both FM 2222 and Anderson Mill Rd. Traffic at these intersections can regularly back up long after peak congestion as well as on weekends. Adaptive signaling can ease or eliminate these backups.
Timeline: None identified
Funding Status: None
CAMPO Status: Not in plan.
Mid-Long Term:
In addition to the FM 2222 / RM 620 intersection improvements – other corridor improvements are needed to address significant congestion and safety concerns along RM 620 between Mansfield Dam and US 183.
TxDOT's on-going study envisions two major changes as part of this improvement.
RM 620 Expansion
The proposal for RM 620 from the Dam to US 183 is to add an additional lane in each direction along with creation of a boulevard and removal of the center "suicide lane".
This proposal will provide important safety benefits by helping to avoid head on collisions and cross traffic accidents- which have been all too frequent along RM 620. It will also provide 50% more throughput capacity for the roadway.
This set of improvements will also include enhancing the RM 620 / Anderson Mill Rd. intersection.

RM 620 – Elevated Lanes
Even though additional lanes will help, they are not projected to be enough to address congestion in the coming years. To adequately handle the volume of traffic projected for the corridor will require elevated lanes – these provide the benefit of no intersections and allow for the free flow of traffic as well as separate of "through" traffic from "local" traffic.
Leveraging the new boulevard will allow for cantilever style elevated lanes to be created – providing  3-4 lanes of travel. The lanes would continue from SH 45 Toll and would end just after FM 2222 going south. At least one access point somewhere near Anderson Mill (likely to the south) would provide for access for residences and businesses along the corridor.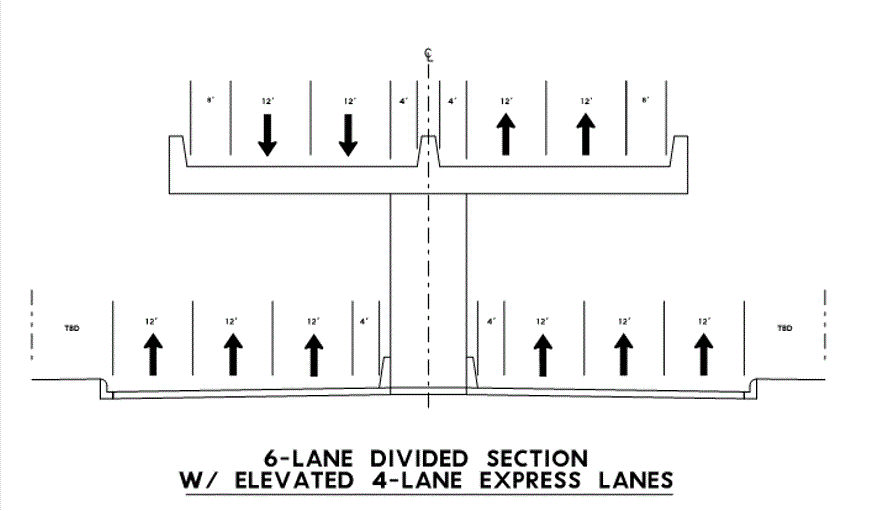 Note that the elevated lanes would not need to be very tall, but could be designed to account the aesthetics and be sensitive to the neighborhoods along the corridor.
The combination of the two changes: widening RM 620 and adding elevated lanes will provide a true solution for our growing traffic problems.
Timeline: ~10-15 year horizon – subject to funding.
Funding Status: Not Secured. Toll possible for elevated lanes. Planning required before funding.
CAMPO Status: Widening is in the 2040 plan, elevated lanes did not make the plan because the study was not ready at the time of the 2040 plan publish.
Traffic Updates (Most Recent First)