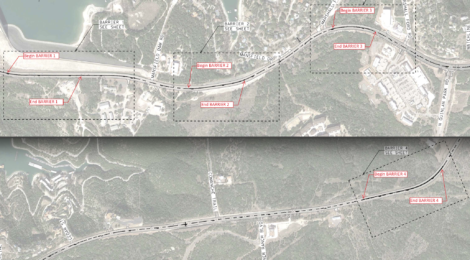 TXDOT is beginning the installation of safety barriers along curves on RM620 this week.
The barriers are being added after community requests for safety improvements following a number of tragic accidents between Mansfield Dam and RM2222. SRNA facilitated meetings between the community, local government representatives, the Sheriff's department and TXDOT in March 2018. At these meetings various safety factors for improving safety were inquired about. TXDOT described improvements such as re-textured pavement and signage it was as already planning but also took in community ideas as actions to evaluate. The idea of physical barriers for the curves had been proposed by local resident Tom Henry with strong support from others at the meeting; it was also pointed out by a community member at the meeting that the future bypass improvement would put cars even closer together along the stretch from Steiner Ranch Blvd to RM2222 – the curve in this stretch tragically became the location of another fatal collision earlier this year.
TXDOT took action on these ideas and ultimately decided to install custom "Jersey-style" barriers with support from Rep. Paul Workman and Commissioner Brigid Shea and others in the RM620 government working group. The barriers had to be custom made to allow for water drainage so took a number of months to receive.
RM620 updates including announcements for Jersey Barriers September 2018: http://steinerranchna.org/sept-2018-txdot-meeting/
RM620 community safety meeting where barriers and other safety measures were discussed: http://steinerranchna.org/rm620-safety-march-20-2018-srna-board-meeting/
Many thanks for local residents for stepping up to advocate for improvements in this area including Tom Henry who has subsequently joined the SRNA Board as well as Morgan Briscoe and Linda Vezina of the West Austin Chamber of Commerce who helped mobilize the call to action after the tragic events on RM620 last year.
The long term solution for RM620 will include separation of both directions of traffic further to the north where there have also been tragic head on collisions over the years. These improvements are starting to move forward now and you can provide input and get involved today: http://steinerranchna.org/rm620-big-next-steps/
Travis County forwarded this information regarding the barrier installation:
Update regarding TxDOT installation of barriers on RM620
Travis County has been assisting TxDOT with safety improvements along RM 620 and we are happy to share that a contract to install the centerline (median) barriers on major curves between Mansfield Dam and the intersection with RM 2222 has been issued and the barriers should be installed this fall.
TxDOT also provided Travis County with mapping of the proposed improvements. These improvements extend along RM 620 from Mansfield Dam to just west of Water Treatment Plant 4. See exhibits Overview 1 and 2.
Each Overview has associated exhibits detailing the safety improvements at each major curve to include concrete barriers and striping. See exhibits Barrier 1 – 4.
TxDOT reported that the contractor will start installation of the barrier the week of July 28th. Completion will be late August/early September. Temporary lane closures or lane shifts could be anticipated during construction.
If additional information is needed, you may contact BReinhardt@bgeinc.com or Bruce.Byron@txdot.gov .