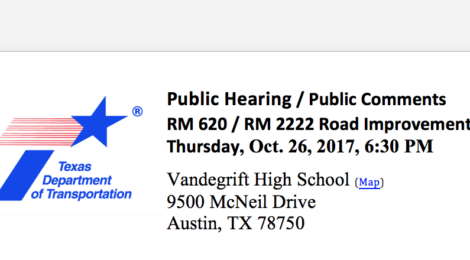 What:
Official public hearing to assess the impacts of proposed improvements to RM 620 and RM 2222. Construction is planned for 2019 pending the outcome of the assessment. The hearing is required due to the construction of a new roadway as part of the improvements.
When/where:
Thursday, Oct. 26, 2017
Open House 5:30 p.m.
Public Hearing 6:30 p.m. with public comment period to follow
Vandergrift High School
9500 McNeil Drive
Austin, TX 78750 (Map)
Why should I attend:
We need your voice at this hearing to ensure these projects happen and move forward as scheduled. This is the official hearing where those for and against the project go on record as part of the environmental assessment. Students, parents, commuters, businesses and all impacted by traffic should attend and go on the official record.
This project has been in the works for years – with serious advocacy and dialogue with TxDOT starting in early 2012. The project is now funded with a combination of City of Austin dollars from the Mobility Bond election last fall ( ~ $7.5 Million from fall 2016 election), and with the State of Texas funding the balance of the $18 million construction cost for the project. The remaining barrier that needs to be scaled to get these desperately needed traffic improvements is the successful completion of this environmental assessment of which public input is a major factor.
"TxDOT is conducting a public hearing to present project information and gather public input on proposed improvements to RM 2222 and RM 620. The hearing will begin with an open house from 5:30 p.m. to 6:30 p.m. During this time, the public will be able to review available project information and exhibits, discuss the project with project staff, and ask questions. The formal presentation will begin at 6:30 p.m. and will be followed by a public comment period."
For the official invite from TxDOT, visit: http://www.txdot.gov/inside-txdot/get-involved/about/hearings-meetings/austin/102617.html
Improvement Summary:
Proposed project(s) include:
Addition of two lanes on RM 2222 through River Place Blvd / McNeil Dr
Improvement of RM 2222 & River Place Blvd / McNeil Dr intersection to allow concurrent left turns.
Addition of new connecting bypass road between RM 620 and RM 2222 to allow concurrent flow of northbound and southbound traffic between RM 620 and RM 2222.
Additional lane of travel along RM 620 from Steiner Ranch Blvd north to the new bypass.
Median barriers along RM 2222 north of the bypass to RM 620
Alternate submission of comments:
Mail comments to:
TxDOT Austin District Office
RM 2222/RM 620 PH Comment
P.O. Box 15426
Austin, Texas 78761
Comments may also be faxed to (512) 832-7157. Comments must be received on or before Nov. 10, 2017 to be part of the official hearing record.
Here is the latest timeline from TxDOT: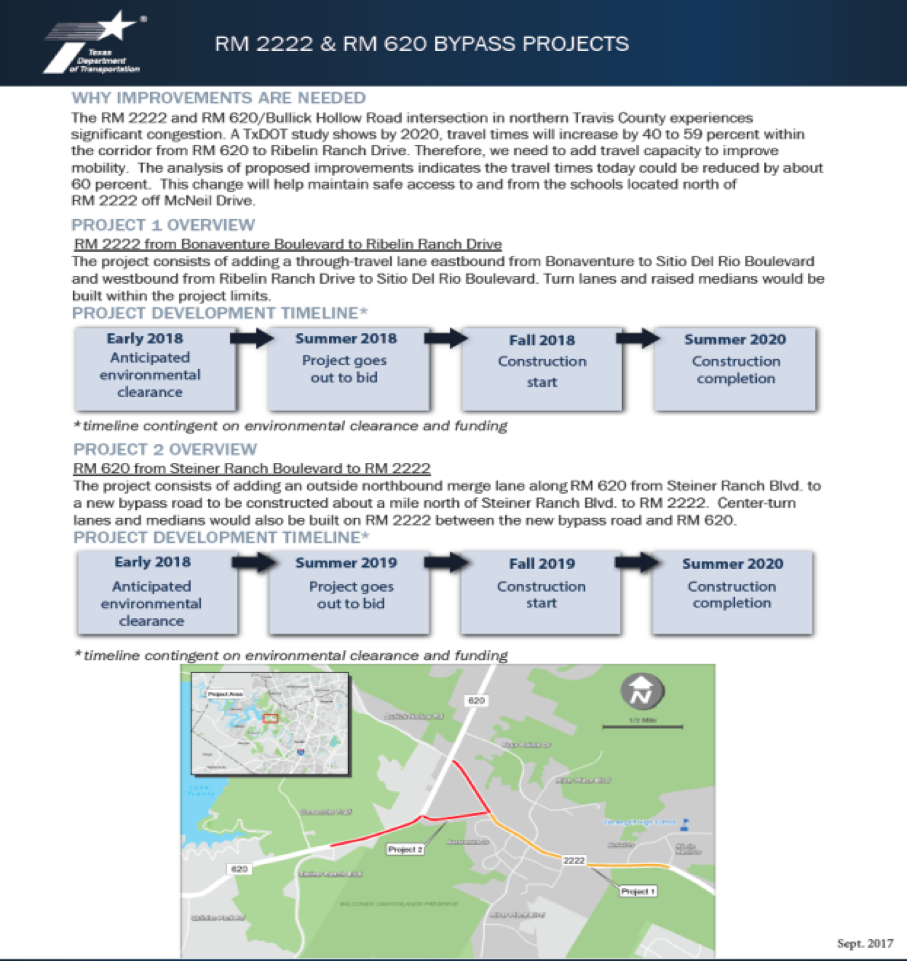 Detailed Improvement Review:
The RM 620 / FM 2222 intersection improvement is really a 4 part fix – when put together we will see a significant expected reduction in traffic congestion:
Expand FM 2222 to add a lane in each direction from McNeil Dr to west of River Place Blvd.

This provides 50% greater traffic throughput (3 lanes vs. 2) in each direction.

Expand the FM 2222 / River Place Blvd intersection to allow concurrent lefts

This frees up valuable green time for traffic in all directions
Shortening waits for both neighborhood traffic and main flow traffic

Bifurcate the RM 620 / FM 2222 intersection with separate traffic flowing  north vs. south

This allows for significantly higher efficiency managing the traffic vs. a single intersection
Heading eastbound on FM 2222, traffic would be able to flow concurrently from the north and south.
Heading westbound on FM 2222, traffic would split at two different points reducing cross traffic.

Add additional lane to RM 620 northbound toward FM 2222 that will connect to FM 2222 through a new connector.

This will allow traffic heading eastbound to flow independently from traffic heading northbound