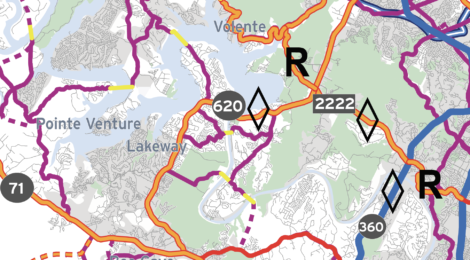 [NOTE: before you read this please take 5 minutes to complete the Travis County Blueprint Survey if you did not do so already because it is DUE JUNE 16: see here: http://steinerranchna.org/blueprint-survey/]
CAMPO has put out a study for envisioning major roadways connecting Central Texas in the long term. The actual study can be read HERE (its a 366 page document). The open house documents are more digestible and are found HERE; however, these need additional context so please read below.

Your opportunities to do this include open houses (see full list HERE):
Open House TODAY:
June 19 – Bee Cave Public Library; 4 – 7 p.m.
4000 Galleria Parkway, Bee Cave, TX 78738
Or online: SURVEY & email: comments@campotexas.org
Survey input is due July 15, 2019.
CAMPO identified a collection of ideas received from engaging the public and local planners and now want to get public feedback about where we need better connections in our region. The conceptual options shown include many abstract ideas where different areas were connected on a map to get public input.

Some of the theoretical connections shown include bridges connecting Steiner Ranch w/ areas across Lake Austin. These are just lines on a map, not plans, so don't panic :). Planners from all agencies (Travis County, City of Austin, TXDOT) have rejected these ideas already. SRNA has shut down these ideas over the years as well because any connections to areas across Lake Austin would turn Quinlan Park Road into a commuter thoroughfare. Steiner Ranch was not designed for this and cannot tolerate through traffic for many reasons (kids, safety, mobility, every-day access and basic functionality, etc).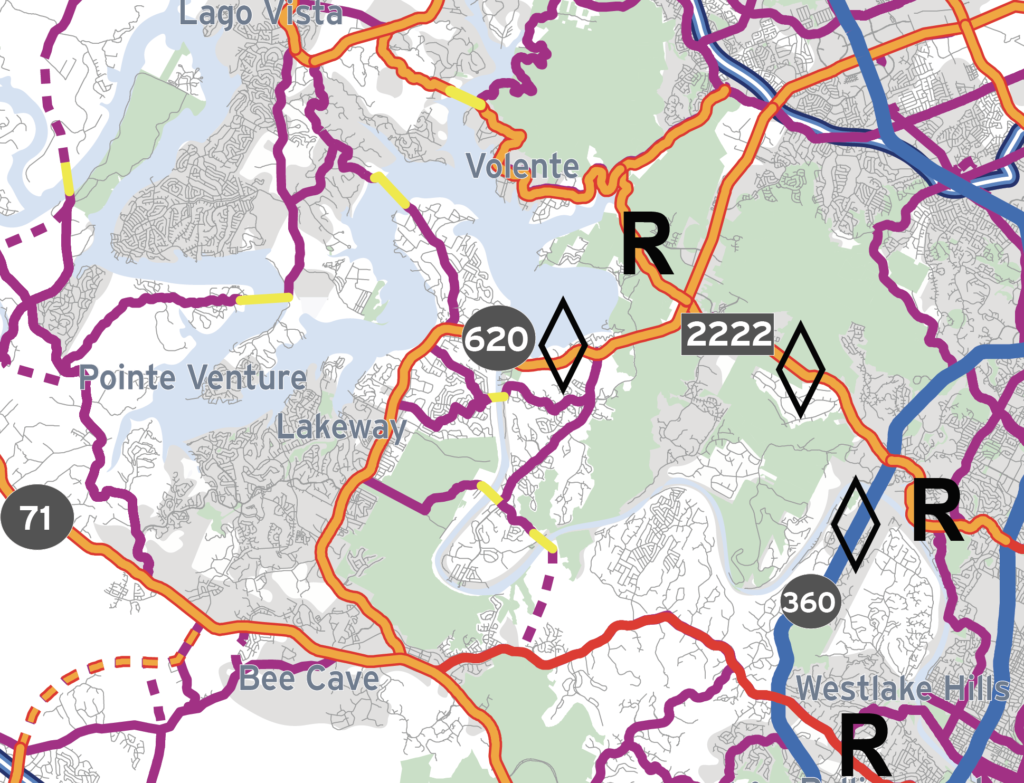 You can and should weigh in on your view of the viability of connecting Steiner w/ bridges, but in practice this is a non-starter. If you want to read about wild ideas to connect across Lake Austin see below.
The study as it stands is confusing; but don't be confused that this is important to weigh in on. This is your chance to say how you think our roads should be connected in the long run. For example, SRNA and a coalition of other neighborhoods on RM620 have long advocated for elevated lanes on RM620 that fully connect US183, RM620 south, and RM2222, avoiding all the traffic light and capacity congestion we feel today. You can say how important this and other connections in Central Texas are to you.
Why weigh in? Because this is an opportunity to shape how we (Four Points, RM620 corridor, etc.) fit into the long term investment in roadways such as investing in RM620. Tell CAMPO what we DO want and let them know what parts of the options they are showing are NOT realistic as well.

SRNA talked with CAMPO directly and we want to be sure you know what this study is and what it isn't:
IS: a chance to highlight which ideas you like and which you don't for long term ideas to better connect parts of our region (this can include new ideas not shown).
IS: a chance to highlight the importance of turning RM620 into a free-flowing highway that connects with 2222 and US183 – this is critical for future traffic in Four Points and the entire RM620 corridor.
IS NOT: this study is not a plan or a proposal from transportation planners or CAMPO. It is only a collection of ideas from previous public and local jurisdiction input received by CAMPO. The connections you see on the maps going to Steiner are not being proposed or advocated by CAMPO (nor City of Austin, nor Travis County, nor TXDOT). The connections are shown to get feedback on ideas.
IS NOT: this study is not part of the actual road building decision process. This is only an abstract study to determine where our region might be missing chances to better connect our area. It was originally started to give smaller communities (e.g. Lakeway, et al.) a chance to give their ideas and weigh into the planning process.
Summary CALL to ACTION:
#1 Take the CAMPO SURVEY & email comments@campotexas.org by July 15: or attend an Open House.
Your feedback is up to you, let CAMPO know ideas you may have to better connect our area and our region, but please consider the following to support points to support our broader community:
Weigh in on the importance of RM620 elevated / free-flowing lanes between US-183 and connecting RM2222 .
Let CAMPO know that the open Steiner Ranch crossings of Lake Austin are not realistic but also tell them what you do want (e.g. additional RM620 lanes).
Weigh in on the "kitchen sink" options CAMPO is showing – what are the wild ideas to really improve connectivity in our region in the long run and which ones don't make sense.
The "networks" CAMPO is showing (including Steiner options) are not constrained by practical, political or financial realism, but instead by more of an academic approach to see what the best connectivity could buy us as a region.


There is a lot of confusion about this study and the intent of the Open Houses and feedback. The confusion was on display at the CAMPO meeting Monday June 10 when elected officials were trying to understand the maps that CAMPO plans to display at the Open Houses. Discussion at the meeting did make it clear that the maps and roadway ideas are not plans but a collection of ideas intended to generate public dialogue about the good and bad option out there to connect our community based on the options shown. SRNA subsequently talked with CAMPO to confirm this is the case.
Note that these are NOT plans, but are instead different scenarios meant to get public input and feedback. You might think about this as starting with all the conceptual options and then asking the public to narrow them down for CAMPO.
The "Scenario B/C maps" include some of the "Kitchen Sink" approach to studying the room for improving connections in our region. Again, note this is not realistic, but more academic to determine how connected things "could be" in theory. Note this includes unrealistic connector across Steiner Ranch and also is not constrained by the BCCP. If you have ideas of more realistic connectors or ones that really make sense to you across our region but are not there you can give that feedback.
Note that in their "Scenario 2", CAMPO lists what they call "Tier 1 Regional Connectors" and focused on roadways other than RM620 for impact and showing as future free flowing. Are you surprised RM620 was left out of this detailed analysis despite being the number one cited roadway at last years CAMPO input? CAMPO indicated when we talked with them this is in part because there is already momentum on RM620 projects, but if that is the case we would have expected to see RM620 listed as a free-flowing roadway in the study.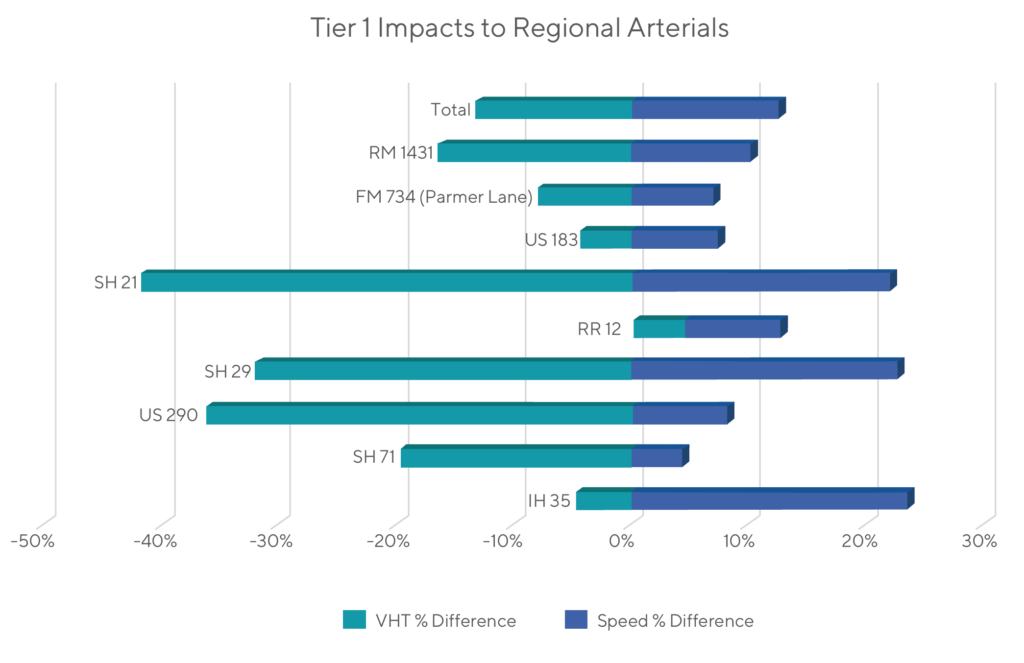 Following is the "Scenario 4 map" which includes their "Kitchen Sink" approach to studying the room for improvement. Again, note this is not realistic, but more academic to determine how good things "could be" in theory. Note this includes unrealistic connector across Steiner Ranch and also is not constrained by the BCCP. If you have ideas of more realistic connectors or ones that really make sense to you across our region but are not there you can give that feedback
New connectors only: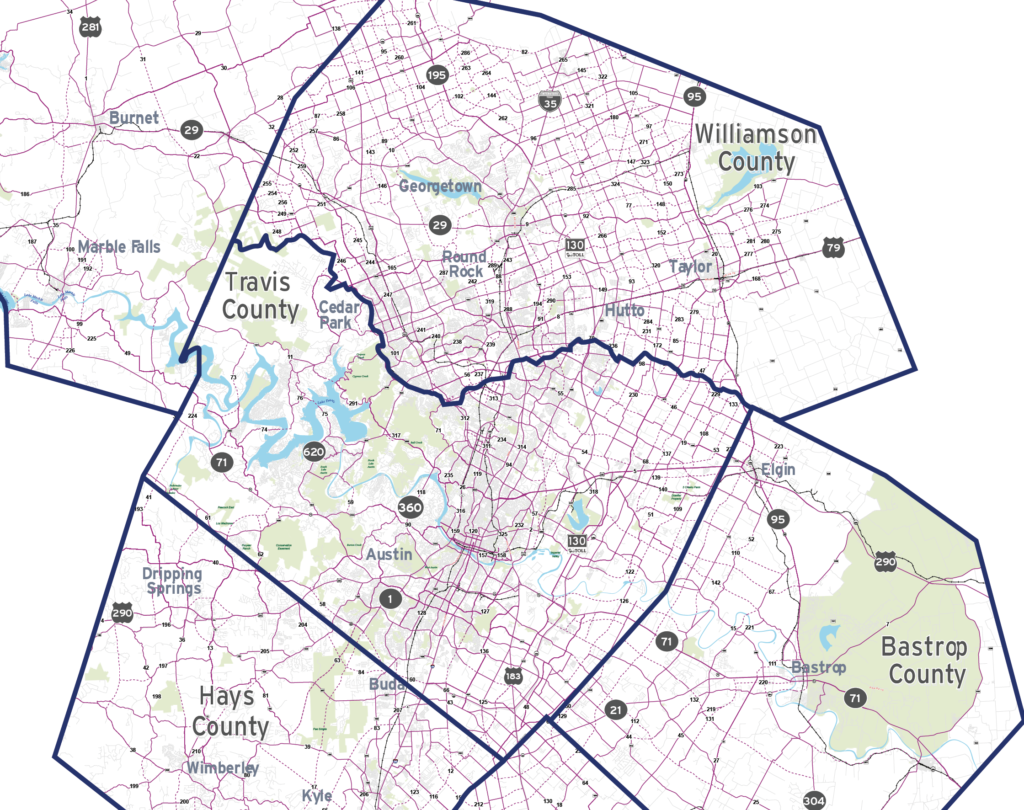 Here is their "Kitchen Sink" map with new and planned connectors: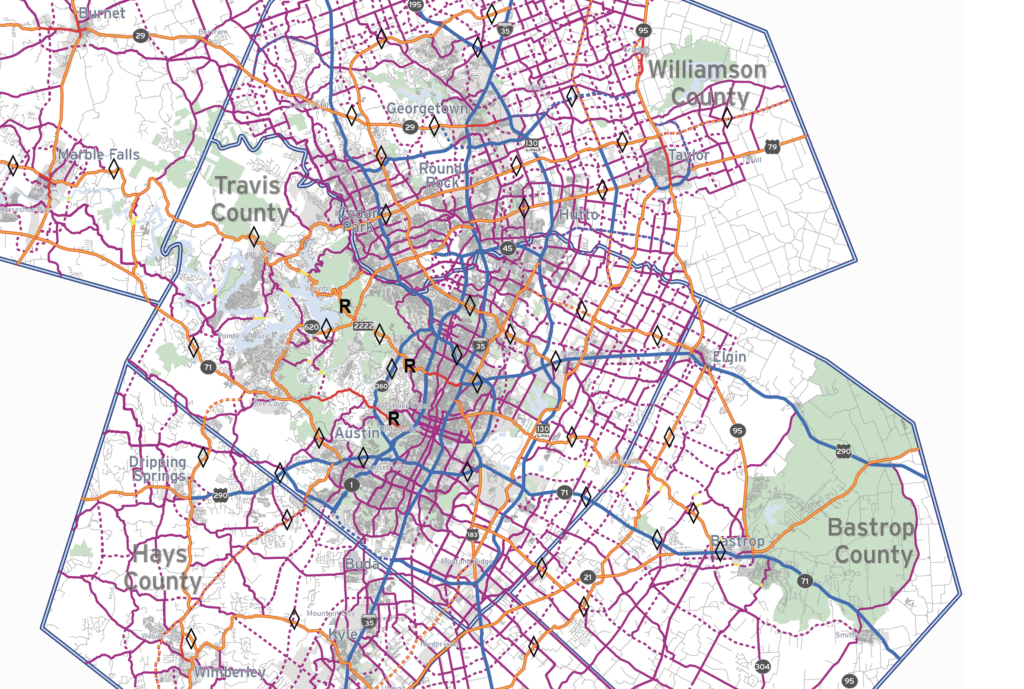 This is a zoom in to RM620 and Four Points.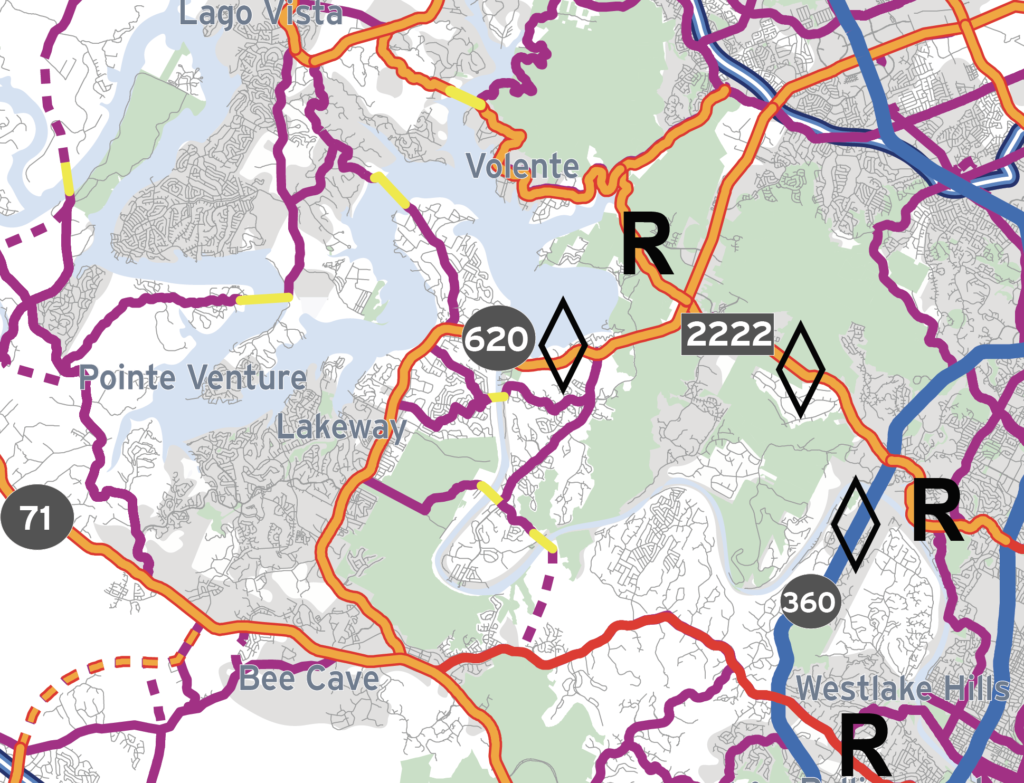 You can see the unrealistic Steiner Ranch connector that connects RM620 to RM2244 (Bee Caves Road) plus a bunch of lake crossings. The reason these are unrealistic is because any connection from north RM620 through Steiner and across Lake Austin would turn Quinlan Park Rd into a major commuter highway for which the neighborhood was not designed – the traffic would turn Quinlan Park Rd. into a parking lot.
CAMPO then shows that with their modeling that if we built all these new connector roads over the region how good could traffic get. This is one of many summary charts (see page 124 of study). Scenario 1 is no additional improvement, scenario 2 focuses "Tier 1" regional connectors but leaves out RM620 for detailed study, scenario 4 is the kitchen sink and scenario 5 is a slimmed down version of scenario 4 with only the highest value alternatives arterials to reduce costs and impacts.
One possible reason for the inclusion of crossings through and across Steiner Ranch in these scenarios is that connectivity along RM620 north was identified as lacking. This is all the more reason to emphasize improvements to RM620 and other arterials in our area.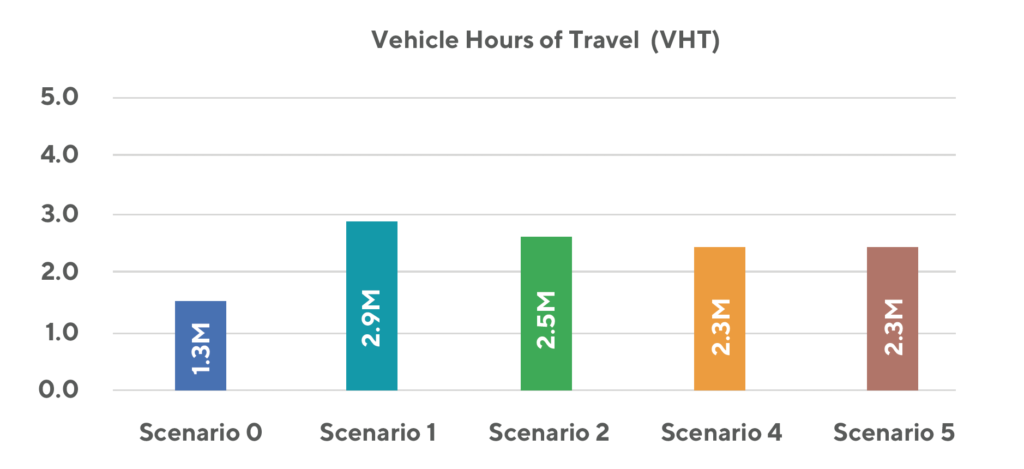 Out of the box ideas for Steiner connections
While open bridges connecting Steiner across Lake Austin would not work (see above), there are some out of the box options which have been proposed previously:
1. Lakeway proposed a road through the BCCP from 620/2222 between Steiner Ranch and River Place and leading to 2244. This road could in theory have an on/off ramp into Steiner. This would connect Four Points with Bee Caves without pushing traffic through Steiner. However, since it goes through the BCCP this has been seen as a non-starter and SRNA's focus has been on fixing RM620.
2. A tolled bridge across Lake Austin could be used to restrict cut-through traffic. If the tolls were set sufficiently high, but set low for Steiner Ranch residents we could have a way to get out in an emergency, have better connectivity and avoid tons of cut-through traffic. To set something like this up would require sophisticated coordination and planning and has not been seen as a practical idea to pursue at this time.