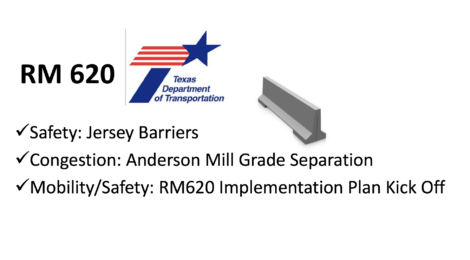 TXDOT Announces Major Safety/Mobility Improvement Pipeline for RM620
Presentation / Community Feedback Meeting w/ SRNA
Tuesday, September 11, 2018 @ 7pm
Towne Square Community Center
TXDOT representative Bruce Byron will be at the SRNA Monthly meeting Tuesday to present major improvements for RM620 and receive feedback from the community:
* Short Term Safety improvements: from the Dam to RM 2222 with new concrete barriers – TXDOT would like community feedback including on locations, etc.
* Grade Separation of Anderson Mill Road and RM620: TXDOT is committing to be ready for funding approval by CAMPO in 2019.
* Long Term Implementation Plan for RM620: Securing a planning contract this month. The plan will include details of how to implement adding capacity along RM620 from US183 to Mansfield Dam and will include public involvement.

This is big news and we are excited that TXDOT has responded to community and corridor needs with this welcome progress.

Please plan to attend Tuesday to help provide feedback on the planed location of new barriers on RM620 and hear more about the improvements TXDOT is planning. Please help share the meeting information with your neighbors so we can get these important safety improvements aligned with the the needs of our surrounding communities. For background, you can read the summary from the meeting with TXDOT in May.

The grade-separation at Anderson Mill Road is the next big logical step in improving RM620. For those who saw the CAMPO meeting developments earlier this year, SRNA Chairman Brian Thompto challenged CAMPO in May to see the next big step in RM620 improvement at the CAMPO meeting next year (you can read his letter to officials here) and TXDOT has signed up to deliver for our corridor with this major step forward.
It is also very promising to see progress toward the long term plans for RM620 moving forward. TXDOT expects this implementation plan phase to take 12-18 months as it includes finalizing the layout for improvements to the corridor from US183 to Mansfield Dam with added lanes and may include full grade separation (elevated lanes). Public involvement will be a critical part of this process.
TXDOT recently started meeting with officials representing local entities along the RM620 corridor on a regular basis to make progress on RM620.
If you would like to learn more about what is already planned for RM620 starting in 2019: CLICK HERE.
If you would like to learn about what is still needed and why, CLICK HERE.
If you would like to learn more about the long term plan for RM620 from the last study CLICK HERE.