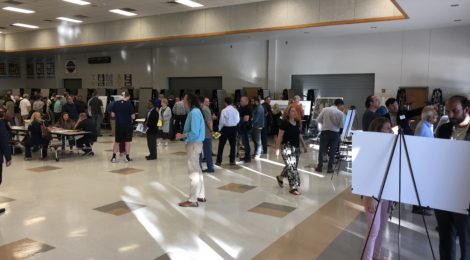 Read below to learn about the options
Make your voice heard
Travis County held an evacuation open house April 18, 2019 at CRMS from 6-8pm. 150-200 people were in attendance (estimated) in the walk-through format. Visitors were able to ask questions of Travis County personnel and project engineers. The Travis County website was updated about a week later to reflect the updated Open House materials.
The open house process is an official step for collecting input from the community before Travis County Commissioners make a decision in June 2019 about how to proceed with improving evacuation for Steiner Ranch.
Open house feedback will be received through Friday May 3, 2019. If you missed the open house you are strongly encouraged to review the materials and background and then respond with feedback by sending an email to: SteinerRanchEvacRoute@gmail.com.
As of Tuesday, April 23, the County had only received 130 written comments from the Open House and 25 emails after the event from our area. Given the importance of fire and emergency safety and size and breadth of Steiner Ranch (with well over 5000 residences) we should be targeting a much higher participation rate.
Please encourage your friends and neighbors to weigh in on this important topic. Feedback from the open house will be compiled as part of the official record reviewed by Travis County staff and provided to the Commissioners who will decide the ultimate next steps.
Evacuation background and new information from the Open House:
You can read information about the proposed project options on the Travis County website: https://www.traviscountytx.gov/tnr/public-works/steiner-ranch-area-evacuation-route-design
This is a link to the "open house materials" from Travis County: Open House "presentation".
Evacuation capability / utility
The main purpose of constructing a new road is to increase the ability to handle a major evacuation event. Travis County looked at the peak volume of each of the three options (shown below). Option F provided about double that of Options B and G. One of the concerns with Options G (and also Option B) cited by Travis County staff (see decision matrix below) is that it goes past a large number of driveways and uses smaller width roads with turns, such that the actual rates of cars movable during an emergency may be reduced from the peak.
According to Travis County, Option F is desired as a daily use road due to multiple factors including cost (estimated $7.5M) since general road funding could be used, and also added capability for emergency responders on a daily basis. The other options presented include Option B (estimated $2.4M) and Option G (estimated $5.2M) are not proposed as open roads, but as emergency use only. While it is possible for Option F to be constructed as a limited use or emergency only road that is not the current proposal from Travis County.
The following was the decision matrix from Travis County showing the options. Many of the shorter options were eliminated due to building permits existing on the lots on which they would pass. Travis County has stated they strongly avoid taking residential property.

Option F impacts and mitigations
Traffic
New information presented at the open house included the traffic study for Option F as an open, daily use road. The data showed that the service level along Flat Top Ranch Rd. would remain fairly constant vs. today (level B) and would approximately increase by about 2000 cars per day. This is significantly less than some upper bound numbers quoted by the County in early December. However, the number is not insignificant as in addition to local traffic, the road would also generate additional trips from especially nearby areas of Steiner Ranch (about twice the current traffic volume).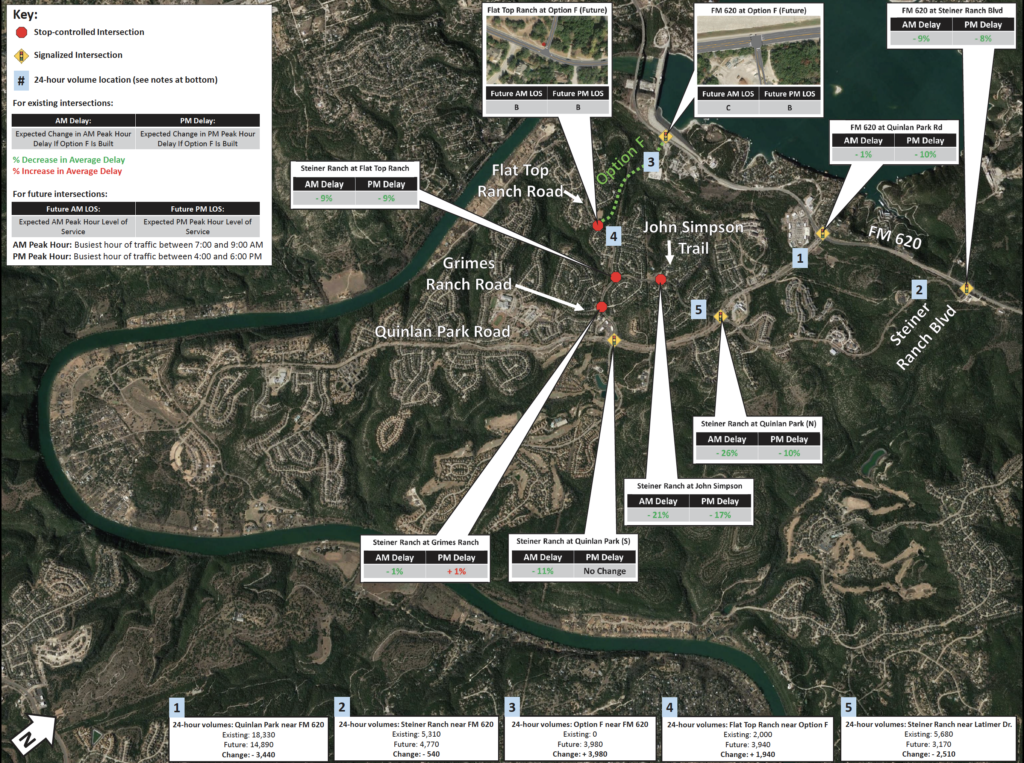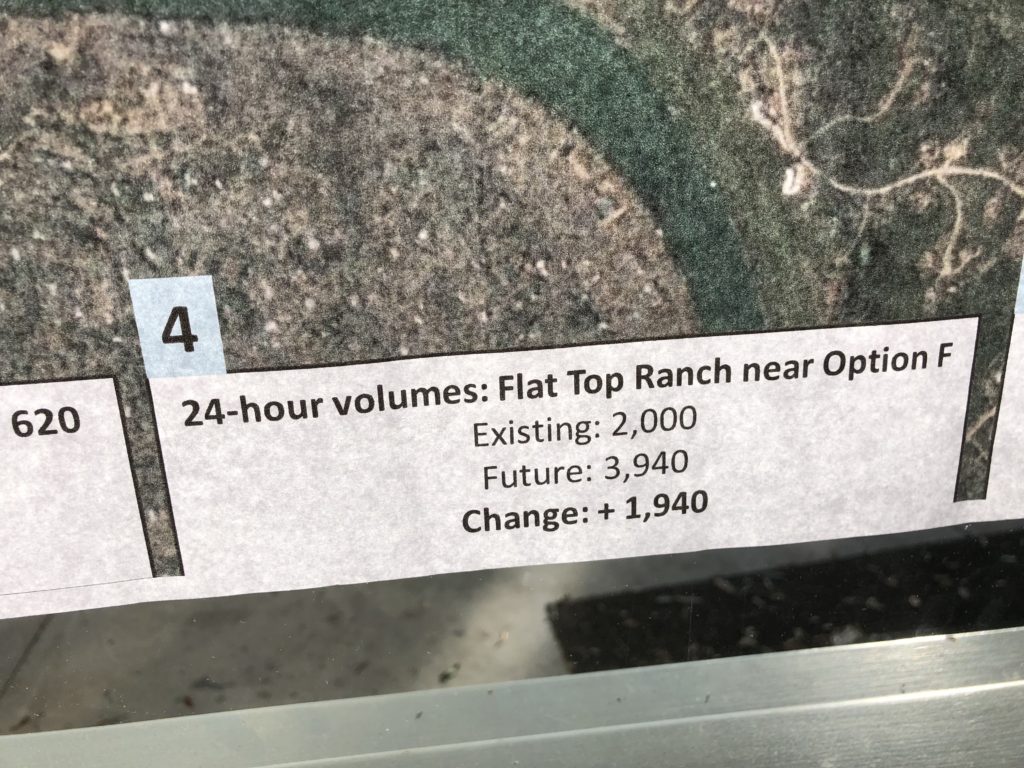 Park
Option F is proposed to make some changes near Westridge Park. The County is proposing to make accommodations to ensure the Park is still fully functional and would plan to add a parking lot to mitigate safety concerns and improve existing parking conditions.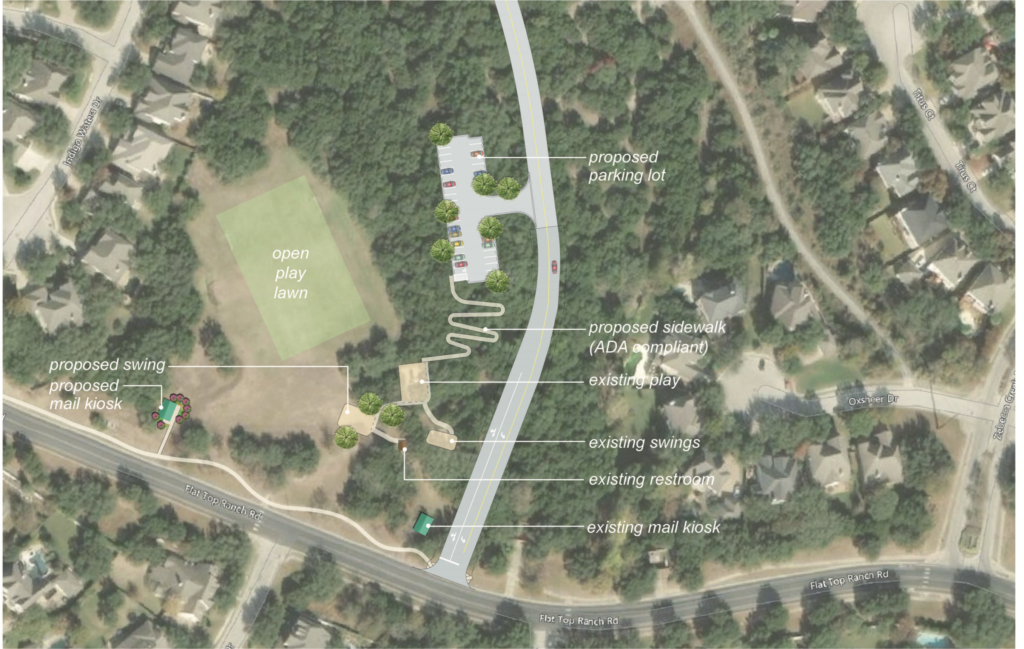 Trails
There are extensive trails in the area near Option F and impact to the trails is a serious recognized concern. These trails provide a significant value to the Steiner Ranch community and residents have raised concerns about loosing both the investment and character of these trails should Option F be built. Members of the Steiner Ranch Trails Committee will be meeting with Travis County engineers to evaluate options for road alignment and trail re-location should Option F be built.
Noise and visual impact to homes
A significant concern for area residents is around impact to quality of life from the proposed Option F roadway due to the visual and auditory impacts of everyday traffic. Travis County has indicated they will build raised earthen berms and/or vegetative barriers to minimize these impacts. SRNA encourages potentially impacted homeowners to engage Travis County planners directly with their concerns on this issue. It will be valuable to have detailed mitigation measures in place should the County move ahead with Option F. Travis County has indicated that the closest property would be approximately 175 feet from the new road.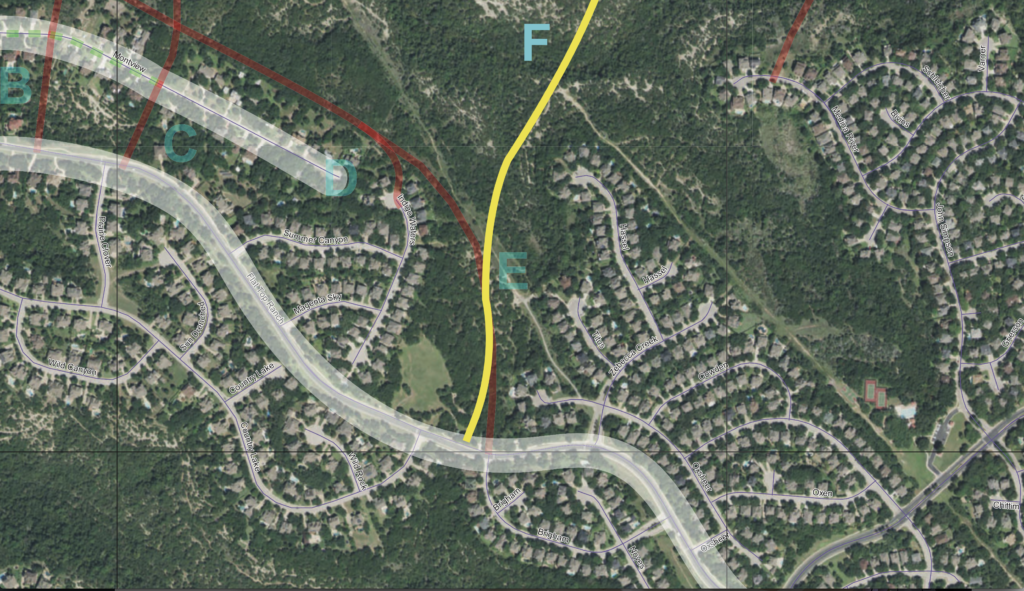 Evacuation plan / use of new road
The main purpose of the evaluated evacuation points in the NW of Steiner are to provide additional capacity and flexibility in the event of an evacuation. Existing plans (which are planned for revision as part of this process) call for contra-flow on Quinlan Park Rd and out on RM620 (see here). With additional lanes provided by a new road, traffic would flow north along normally south bound Quinlan Park Rd. lanes, then north along Steiner Ranch Blvd. to Flat Top Ranch Rd. and out of the new route. An added connector onto RM620 would also provide additional lanes for emergency personnel to enter Steiner Ranch in tandem with an evacuation moving traffic out. While every emergency is different, emergency responders at the December 11 meeting indicated that having additional options gives flexibility for how to handle each scenario; for example a new road to the west such as those proposed would be able to handle traffic should there be a blockage along Quinlan Park Rd.
Alternatives
A frequently asked question is why Travis County is not pursuing an alternate evacuation point from the Steiner peninsula to the south or the east. The main reasons are crossings of BCCP and cost. From the map below you can see that routes to River Place would cross through the BCCP – a protected area which Travis County has not supported seeking approval for additional capacity (e.g. such as the proposed Vandegrift evacuation road).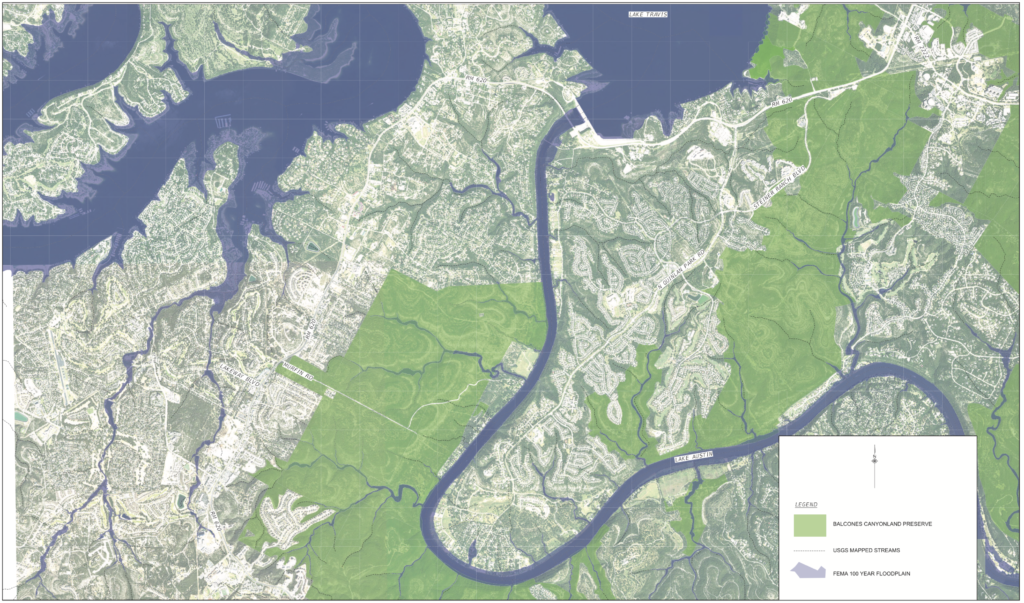 Other options such as constructing a bridge across Lake Austin have very high costs (many $10's of millions if done on the south end) which would also want to co-requisitely motivate daily use to justify the cost – this would generate extreme traffic increases down Quinlan Park Rd so is not a consideration. A ideal option might be a pedestrian bridge for daily use that could be used for cars only in an evacuation off of the road from Selma Hughes Park Rd. to near Commons Ford Park; however, the land on the other side is private property.
Please contact Travis County to provide your input. SRNA is always here to help so please let us know what we can do. We have held a number of meetings recently on this topic and we are forwarding community questions to Travis County:
http://steinerranchna.org/evacuation-pre-open-house/
http://steinerranchna.org/evacuation-option-key-questions/