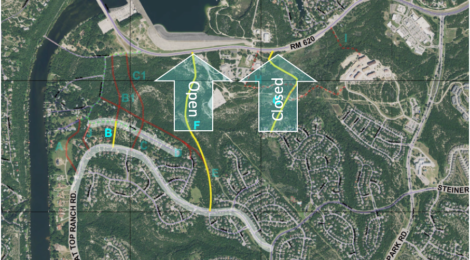 Background on this topic and updates from the December 11, 2018 meeting can be found here: http://steinerranchna.org/evacuation-meeting-notes-dec11/
A high level summary, next steps and what you can do list can be found below.
At our January 7th SRNA monthly Board meeting we took time to answer questions from those in attendance about the evacuation decision process. We also started documenting the "key questions" that you wanted to see answered by Travis County before moving forward with any option. Our goal of this exercise is to increase the understanding between Travis County and the community so that future updates are likely to answer as many of the most important questions as possible. We will keep you updated.
Please provide feedback on this list to chair@steinerranchna.org. (You can also contact Travis County directly with feedback on evacuation options at SteinerRanchEvacRoute@gmail.com or see "what you can do" section below):
Key Questions:
Evacuation road metrics / questions

Metric baseline: Evacuation rate using existing facilities
Evacuation rate with new facilities per option (relative to baseline and relative to QPR/SRB intersection closed)
What scenarios are being planned for / considered for modeling such as staging / starting point of evacuation; e.g. what is the importance of volume under these scenarios
How will the traffic flow metrics be computed including how to account for each path's capability; e.g. using existing traffic?
Can route F be an option and an evacuation only road

Open road metrics / questions

What are the traffic rates and patterns being projected
Describe the traffic study process for projecting the traffic rates
How will the traffic study results be used, how will traffic volumes be weighted as a negative
Open road – what (quantified) impact would this have toward emergency response
Noise – what is expected
Crime – can crime rates be assessed to project an increase in crime
Safety assessment for pedestrians with increased traffic
Location on RM620 (of the proposed intersection) – is it safe, such as accounting for nearby curves, etc.
What mechanism would be used to restrict development along the new road (deed restriction, etc.)
What are cost breakdowns – e.g. accounting for relocation of facilities and other mitigations (e.g. walls)
What traffic impacts are expected on (existing) Brigham Road
If there is overwhelming opposition to the road will it be eliminated as an option

Why is a route to River Place off the table – what are the best options considered (and their costs)
Will an alternative replace "B" that connects to low water crossing road
Are cost estimates vetted? e.g. especially for open Option F – what is anticipated to be the total cost
Could the property with future construction on the Option B route be purchased ; e.g. at a premium
Will the County take time to go through and respond to feedback after presenting new information
Can the evacuation plan ultimately include neighborhood training and a plan to account for on-going education
Background / High Level Summary:
Three options have been presented as the "final options" from the County to provide additional evacuation and emergency access options for Steiner Ranch: Options "B", "G", "F". Option "B" has since been identified as having a planned home construction.This leaves option "G" and option "F".
Option "G" is an evacuation only road proposed off of Medina River Way.
Option "F" is proposed as an open road off of Flat Top Ranch Rd. – meaning it would be available for everyday use, to provide both emergency and additional everyday access to RM620.
Travis County has begun a process to answer open questions raised about the remaining options. These include the effectiveness of the roads (F and G) for emergency use and importantly the expected traffic patterns and volumes for Route F – some initial numbers quoted for traffic volumes turned out to not be based on any traffic analysis.
Many questions were answered at the meeting including clarification that option F would not run down the middle of Westridge Park (an updated drawing was subsequently provided showing an approximate road line).
See the full update (posted on SRNA website Dec 19th) including hi-res images: HERE. Including a detailed summary of the meeting, questions and answers and the presentation slides made available Dec 18.
Next steps:
Traffic study being conducted by the County in January-February time-frame.
The outcome of the traffic study and any other new information will be made available to the community likely in late February or March. The County will take input from the community directly and will consider what direction to pursue.
An open house will be scheduled after the County has considered community impact and proposes a solution.
Officials have not yet taken an official stance on this issue and most are awaiting the full data and analysis of the options to be complete.
What can you do:
SRNA will continue to convey as much detailed information as possible as it is made available.
Stay plugged in – join SRNA to receive email updates. Pressing questions – join us at our meeting or email: chair@steinerranchna.org
Invite your neighbors and friends to join and also follow us on Facebook: https://www.facebook.com/Steiner.Ranch.Neighborhood.Association/
SRNA is committed to ensuring that all options are fully evaluated to best inform any decision so that all implications can be understood. This is especially important when considering a change such as adding an open road.
You can provide input directly to the County: SteinerRanchEvacRoute@gmail.com
When future meetings with updates are announced we will let you know via email and Facebook (see signup above)
You can also watch for notices and engage with your local HOA representative (if any) on this issue – SRMA for example is planning to discuss this matter as a Board after further information (such as the traffic study) is made available from the County.
Additional Background on this topic and updates from the December 11 meeting can be found here: http://steinerranchna.org/evacuation-meeting-notes-dec11/