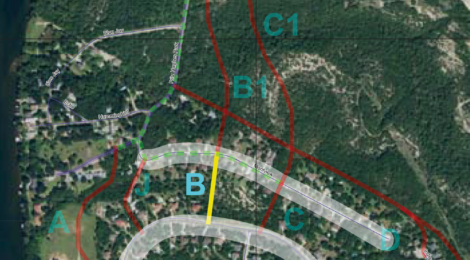 [This article was updated to include the SRNA letter addressed to Travis County regarding Route B.]
July 9th, 2019; the Travis County Commissioner's Court approved a new evacuation route for Steiner Ranch.
Travis County approved Route B to give Steiner Ranch and Montview a new way out in an emergency. The new connector off of Flat Top Ranch Rd will also give emergency personnel a new way into the neighborhoods.
Route B provides a meaningful alternative giving flexibility in the event of a fire. According to the County it may provide up to an additional 750 vehicles per hour of additional "capacity" to help move people out of Steiner Ranch in an emergency.
Route F – the "open option" was not approved and while it remains in the Travis County "Blueprint", it was cited as being unaffordable for the county at this time also having more impacts to the community since it would have added everyday traffic to parts of the neighborhood.
What are we still missing:
Only the connector for Route B was approved but no other improvements to the route are planned even though improvements to Fritz Hughes Park Rd were identified as needed by Travis County back in 2014 and previously approved in 2017. In the event of an emergency it is unclear if the route could operate effectively to move traffic due to a low water crossing, cattle guard, etc which could bottleneck evacuation traffic. After SRNA's request during the Commissioner's Court meeting, the County agreed to explore improvements to the route that are also compatible with the local neighbors in Montview. No analysis was done to quantify the evacuation benefit of Route B with current road conditions before the vote.
Public education on how an evacuation would take place and how to be informed in the event of an emergency are still needed. These were cited as part of the project with the County.
SRNA will follow up with the County on these two issues: You are invited to do so also. Or please let us know any other concerns or ideas you have. If you want to read our letter to the County you can find it at the bottom of this post.
You can watch the Commissioner's Court replay. The discussion in the video begins at 1 hour in (-4:57:00): http://traviscountytx.iqm2.com/Citizens/SplitView.aspx?Mode=Video&MeetingID=1932&fbclid=IwAR3dQzKpHW85sl7YaN9fmWPRDgIHC2wVKU7hl8oToKihgf_Pg_taoldX9Vo
Some media coverage from the meeting can be found here:
Will I be impacted by this new route?
The new road will be closed except for emergencies with gates controlled by emergency personnel. This will not change in the future – there are no concerns about cut-through traffic.
The Route F open option was not adopted and would need to go through a brand new approval and funding process to be reconsidered. This may be significantly less likely now that Route B has been approved. Since the plan also faced significant opposition it may not be an easy process for the County to ever get Route F approved for funding.
Other potential options for additional improvements
The proposals for evacuating Steiner Ranch have caused significant divides within our community. Some of the options have become "toxic" for discussion given the sensitivity to the issues, mainly because of concerns related to new open roads. What would be non-toxic options that could provide additional relief as alternatives to the County's proposal of implementing Route F as an option road in the future? Here are two:
Planners have identified Quinlan Park Rd south of Country Trails Ln as being a candidate for future widening (possibly as far south as River Ridge Elementary). This would not change the amount of traffic that flows along the road, but would allow for improved capacity to evacuate during an emergency and reduce backups during heavy morning school traffic. This future improvement is part of the Travis County Blueprint and could be included in a future bond. The community would have a chance to weigh in on support and the details including the design, proximity to homes, etc before any project would be pursued.
Instead of continuing to pursue Route F as an open road, a permanently closed road would be an alternative. This was cited by Commissioner Daugherty during the Commissioner's Court meeting referencing a conversation he had with Mr. Thompto of SRNA. In order to guarantee that the road remains closed and to encourage this non-preferred option from the County's perspective may require a minority stake in the project such as a nominal contribution toward improvements from the community. This option only makes sense if the community feels it would provide clear benefits. If we want this option, our community would need to bring it forward. It is not clear the community has the appetite for revisiting route F as a closed road at this time, but this option is available as an alternative should the County re-introduce the open Route F idea in the future as planned.
Why do we need a new road for evacuation / why off of Flat Top Ranch Rd?
The SRNA Board met with Travis County, traffic engineers and the Fire Marshal in May, 2019 after the Open House to review the need for additional access and the alternatives that have been explored. This meeting was prompted by on-going question from the public questioning the need for additional capacity and specifically questions about what impact additional capacity would have in the event of an emergency. This was our Board summary:
1. Doing no improvement is not an advisable option. It is important to expand ingress/egress capacity for Steiner Ranch to handle an emergency. Will Boettner (Travis County Fire Marshalls) indicated that if Steiner were built today it would not be allowed without additional evacuation options / lanes. In addition, the unpredictability of a future event such as a wildfire means that having additional access in a different location gives emergency responders important flexibility.

2. It is critical to provide additional evacuation capacity out of Steiner for an emergency. The County indicated that Route B would provide up to 25% additional capacity for evacuation – Route F around 50%. Improving the time it takes to evacuate even when all lanes are available and even for a partial evacuation may be critical to save lives. Even with properly controlled traffic flow on RM620, an evacuation today could take hours putting our community in danger. For example, in the event of a rapidly advancing fire. An additional connector road would provide additional effective capacity including the ability to allow for traffic to head effectively in both directions on RM620. With improved capacity onto RM620, all residents including those south of Quinlan Park Road and University Club Drive / Steiner Ranch Blvd would benefit because traffic would flow out of the area significantly faster. We have a significantly larger population compared with 2011 and a future fire event could require rapid evacuation to save lives.

3. There are no viable alternatives across the BCCP or the river. As intuitive as these alternatives sound, the engineers walked through all the possible scenarios that involved connecting across the river (Lake Austin) or connecting to River Place. They have detailed plans that show the elevations, distances and estimated costs for each option. The length of bridges across the river to the south of Steiner or to the west from Selma Hughes Park Road to River Place would be longer than the bridge in front of Mansfield Dam and would be many 10's of millions of dollars (some options as high as $75 million for the bridge alone). A bridge from Selma Hughes Park over to Commons Ford Park would also be very long and would require improving Quinlan Park Road and Selma Hughes Park Road as well as adding roadway inside Commons Ford Park, would need significant approaches to get the necessary height, and involves challenging engineering. A path to River Place would be many miles long, circuitous, costly, and through the BCCP. Note that even the road to Vandegrift through the BCCP along an established utility corridor has not made it though approval after many years. The cost makes all these options extremely inefficient for emergency only use and they would also not be possible for everyday use due to the traffic they would generate along Quinlan Park Road. Imagine commuter traffic backups right through the heart of Steiner Ranch – it is not tenable.

This leaves the object as providing additional connection options to RM620 and improving the rate at which vehicles can exit onto this major highway.

SRNA Board Summary of Meeting w/ Travis County, May, 2019.
Why did it take so long / how did we get here?
Planning began in December after the fires of September 2011. At that time, SRNA was just forming and participated in the first meetings held in Steiner Ranch with County and fire officials as well as others. SRNA continued to engage with the County pursuing progress toward finding alternative routes, including proposing a number of routes ourselves in meetings during 2013 and 2014. The conclusion of the County's assessment from 2014 as presented at the SRNA Annual Meeting. The idea was the precursor to Route B, a connector from Flat Top Ranch Rd. to Montview Drive, as seen below in this presentation slide from May 28, 2014: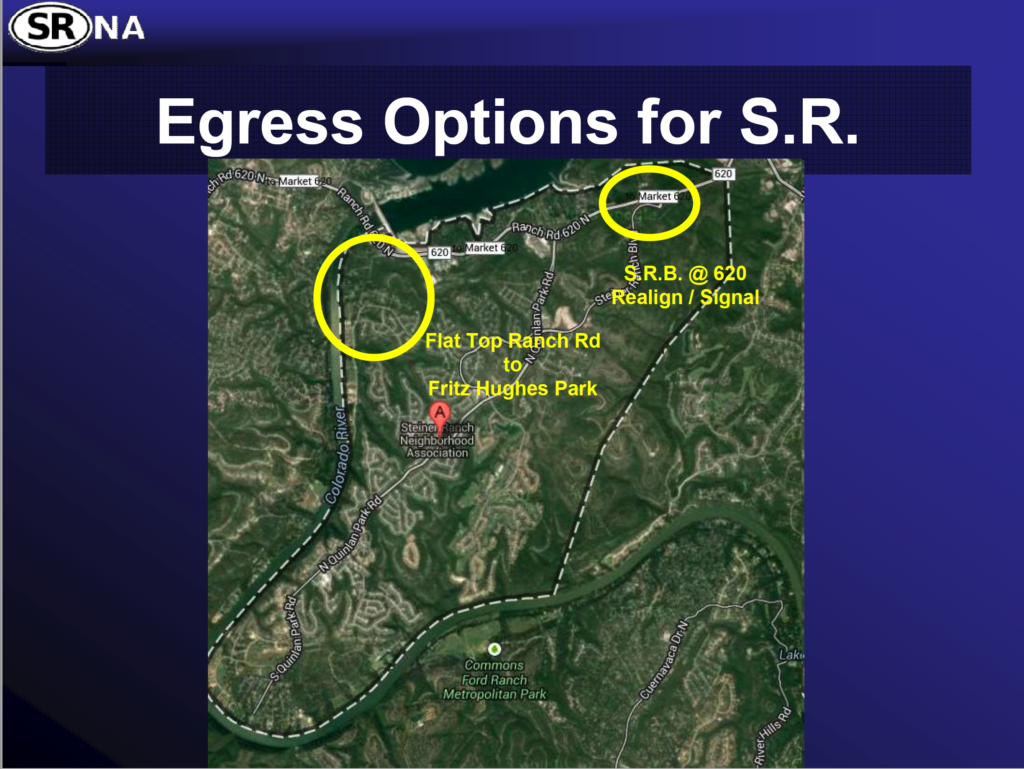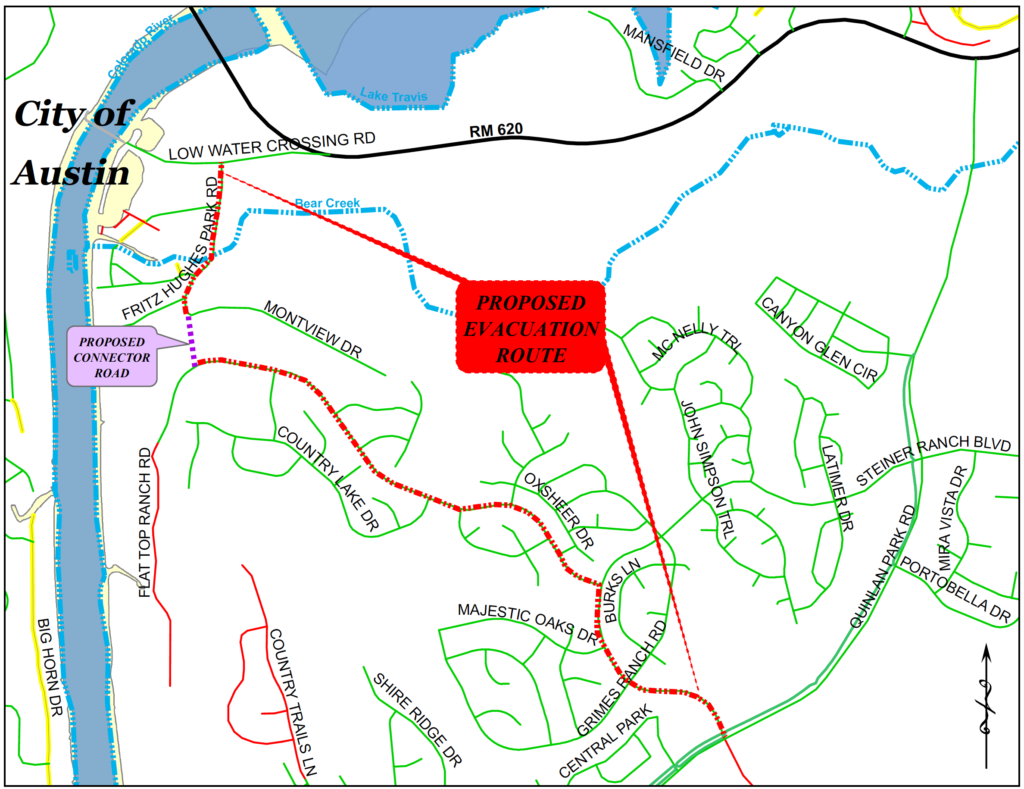 This project concept was funded in 2017 by the Commissioner's Court, but without a specific path chosen. The project in 2017 included improvements to the low water crossing along Fritz Hughes Park Rd. This was because Travis County had concluded back in 2014:
"that Fritz Hughes Park road will need to be improved if it is to function effectively and reliably as an emergency evacuation route. I will increase the budget request accordingly when the project is to be considered for funding in the future."

Steve Manilla, Travis County Executive, TNR, July 2014.
After being funded in 2017, with the increased budget for Fritz Hughes Park Rd, the project faced opposition from Montview neighbors over concerns similar to those expressed at the Commissioner's Court meeting this week including concerns over improving the low water crossing and concerns related to cut-through traffic. This ultimately resulted in a consultant being hired to evaluate alternatives and led to the planning process that is finally concluding now in July 2019.
Travis County formed a "working group" in mid-2018 to provide feedback to the County in the initial process to decide on the best road alternative, members included SRNA, SRMA, Montview and others (other HOA and stakeholders were also invited). The County also engaged directly with other stakeholders in its process which led to a change of direction internal to the County in fall 2018.
In November 2018, the working group learned that the County had decided to pursue Route F as an open road. SRNA cautioned the County immediately that "an 'open' road changes the basic nature of the project" and that it would be "natural to have high resistance for very good reason: the neighborhood was not designed with this access in mind, so it naturally raises questions of safety and congestion which might be insurmountable." We advised the County to "keep in scope at least one non 'open' option; i.e. without understanding fully the impact of an 'open' road if we eliminate all other options we may be precluding any solution." SRNA also advised the County to meet with area neighbors around Flat Top Ranch Road so they could come to understand the likely neighborhood concerns before continuing on this proposed new direction.
A contentious public discussion followed when an open Route F was presented by the County as the only option to Flat Top Ranch neighbors in the first week of December 2018. SRNA immediately contacted Travis County and worked with them to advocate adding back in emergency-only routes to their option set and public presentations, to slow down their process, to allow for reconsideration of the recommended option, and to also engage the public so that the broader community could learn of the remaining options. We setup and moderated a public meeting for the second week of December 2018 so that Travis County could being a public dialogue about the route options. The County agreed at the public meeting to answer significant open questions including conducting a traffic study related to Route F.
In January 2019, SRMA (a HOA in Steiner) and the County, began to hold some private meetings with the County. Eventually, after a full Board meeting with Travis County, the SRMA Board voted to support the open Route F in February 2019. This vote generated some contention with the community since the SRMA had originally indicated they would allow for the County to answer all questions and allow for a process of public engagement and feedback to take place prior to taking a stance on the issue.
Meanwhile, SRNA continued to engage the public through April 2019, holding meetings that allowed for the collection of key questions from the community and then sharing them with the County. During this process, SRNA did not take any official position on the specific route options so as to remain a conduit for communication between our community and the County.
While SRNA did not take a specific position on route selection, we have always maintained specific set of expectations for this process: A meaningful improvement in evacuation alternatives and a reduction in evacuation latency to make our community safer in the event of an emergency such as a wildfire. This was reflected in our statements at Commissioner's Court.
SRNA letter to Travis County after the approval of Route B:
Earlier this month at the Travis County Commissioners Court, Route B was approved for emergency egress from Steiner Ranch. The approval did not include funds or specific planning for improvements to the route beyond a new connector. As requested at the Court and discussed with David and staff, we are looking forward to see a more complete solution that looks at the entire route and ensures it will function effectively in the event of an emergency.
I have forwarded below a 2014 statement from then TNR County Executive Steve Manilla, "that Fritz Hughes Park road will need to be improved if it is to function effectively and reliably as an emergency evacuation route. I will increase the budget request accordingly when the project is to be considered for funding in the future." Three years later, in 2017, the Court approved funding for both a connector road and improvements to Fritz Hughs Park Road and the low water crossing. Correspondingly, in the 2017 bond process the bond committee was told not to consider improvements to the low water crossing because they were already funded. However, presently there are no planned improvements to Fritz Hughes Park Rd as part of this project.
After almost eight years of study, tremendous effort by County staff, and in the interest of public safety and due diligence, we respectfully ask that the County looks at widening the scope of improvement for Route B as part of the implementation of the route to ensure it will function effectively and efficiently in the event of an evacuation. With over 18 months and close to $1 million spent by a consultant to identify a good evacuation road, we do not yet have a route which has been analyzed or designed in totality. In part, this seems due to the rapid change in direction from Route F and not allowing sufficient time before approval for staff to ensure the project as proposed would meet objectives.
We are aware and empathetic to residents in Montview and surrounding neighborhoods who have voiced concerns with specific improvements along Fritz Hughes Park Rd. such as an Atlas 14 bridge over the low water crossing which would cut off access to homes. However, I am confident that alternative solutions exist which would both achieve the original objective of an effectively functioning evacuation route as well as avoid imposing undue harm on the local neighborhood.
We know that the County staff has invested a great deal of energy into this project and we would like them to know it is appreciated. In the event of a future evacuation we will all be grateful for a thorough analysis and improvement of Route B in the coming implementation and design phase. Please keep us up to date as this analysis progresses and as options are identified.
Separately, per the consultant, we understood that a part of this project scope was to ensure that Steiner Ranch evacuation plans were reviewed and.updated with local agencies and with the public. If you have any updates on this important aspect of planning please do let us know.


SRNA Letter to Travis County after approval of Route B, July 2019.
** Correction for Four Points News Print Edition
NOTE: the printed version of the Four Points News cited above contained some errors regarding SRNA chairman Brian Thompto's statements at the Commissioner's Court on July 9, 2019- these errors were already corrected in the online version linked above and addressed in the following week's article / coverage:
1. The printed version incorrectly stated that a delay was requested by Mr. Thompto for adopting Route B to provide more time for the idea to "sink in for Montview". Instead, Mr. Thompto's statements indicated he was concerned that Route B may require additional improvements to allow for the desired evacuation capacity and requested the County take time to get it right.
2. The printed version incorrectly stated that Mr. Thompto proposed an assessment on the community to help fund a closed road. SRNA is not proposing assessments on our area – our ask to the County is to ensure that Route B will be provide for effective flow of traffic in an emergency. In his statements to the Court, Mr. Thompto did not address assessments other than to answer questions from Commissioner Daugherty that there had been no public discourse about such ideas. However, Commissioner Daughery did reference a conversation he had with Mr. Thompto regarding the idea of a closed route F instead of the County's current plan of pursuing an open route F as a future step. See 'other potential options' above to learn more.