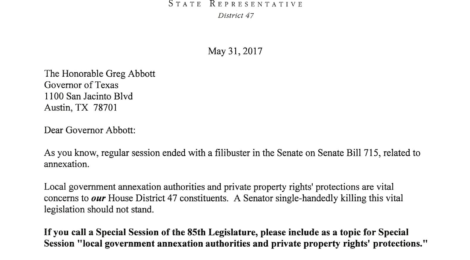 Senate Bill 715 and a corresponding House Bill were intended to extend the rights of areas outside cities by allowing qualifying areas to vote before being annexed. If passes, this legislation would have given rights to a number of communities in Austin including Steiner Ranch, Barton Creek, River Place and others. Presently, there are few to no rights or guarantees of service when an area is annexed.
A San Antonio State Senator choose to filibuster this bill in the senate, such that it was not able to be considered by the full body of the Legislature before the end of session.
If a special session is called, Rep Paul Workman (see attached image) and others have requested that Gov. Greg Abbott include the topic "local government annexation authorities and private property rights' protections."
If you would like to add your voice to this request, you can contact Governor Abbott's officee by phone (512-463-1782) and via his web site (https://gov.texas.gov/contact/).