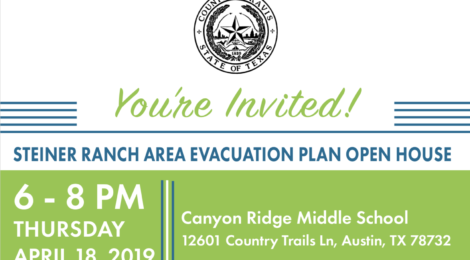 A MESSAGE FROM TRAVIS COUNTY FOLLOWS (to learn more from SRNA to help prepare for the Open House click HERE):
STEINER RANCH EVACUATION PLAN OPEN HOUSE
Join us for an open house to see updated and new information on the Steiner Ranch Area Evacuation Plan. The Open House will be come-and-go and staff will be available to answer questions.
The Steiner Ranch Evacuation Plan is a capital improvement project proposed to provide an alternative evacuation route out of the Steiner Ranch area neighborhoods.
WHEN:
Thursday, April 18, 2019
6 – 8 p.m.
WHERE:
Canyon Ridge Middle School Cafeteria
12601 Country Trails Lane, Austin, Texas 78732
If you plan to attend the open house and have special communication or accommodation needs, please contact Kathy Hardin at 512-854-7598 or by email SteinerRanchEvacRoute@gmail.com by April 15, 2019 to request assistance.
For more information on the project, please visit www.traviscountytx.gov, keyword search "Steiner".
You will have an opportunity to review the information and provide comment. The meeting will be an open house format so you may come-and-go at your convenience.
Thank you for your interest in this Steiner Ranch area safety project.
END MESSAGE FROM TRAVIS COUNTY