>>>>>>>>
UPDATE; June 3, 2020:


Things took a bad turn this week as CAMPO released an updated 'scenario" list which abandons the scoring criteria they had agreed on and the "Ranking list" from May 27th which had included Anderson Mill and RM620. The new "June 1 scenarios A-C" instead go back to tweaking their original list and leaves the 620 / Anderson Mill Rd. overpass off the list to maintain funding.
Note that the 620 / Anderson Mill intersection overpass was the #1 roadway in consideration on the score based "ranking list" and costs $25 million, but is now proposed to be passed up for $172 million worth of other projects that scored (often significantly) lower.
What to do – let CAMPO hear you – Email Entire CAMPO Board! The vote is Monday June 8th.
The 620 corridor is already expected to suffer continued growth through 2024 – the current let date for the Anderson Mill overpass project. Any delay beyond that will be more than painful. A project with a similar time-frame is the $75 million to fund frontage roads on toll 183a between Avery Ranch Rd. and 1431 – which somehow made the list ahead of 620 / Anderson Mill and over a dozen other projects totaling another $100 million. Let date should not be the dominant decision factor here if within the funding window (which goes through 2024 already). These lower scored projects should not all jump in line in front of the top road on the list – none of these are comparable with the 620 / Anderson Mill as far as addressing current traffic backups, safety, evacuation issues and lacking alternatives.
Note that all projects on the CAMPO list are worth doing – they wouldn't be on the list otherwise – but when we have limited resources we need to triage the most urgent projects and give them the highest priority for funding. That is exactly what CAMPO is doing w/ IH-35 (and why they are taking $633 million from previously funded projects) and it is what should happen here as well for 620 for the betterment of the region. note that CAMPO policy board members acknowledged that roadway importance was critical and before making a decision they held off the vote on the project list for month so they could score projects. Now that 620 / Anderson Mill is the #1 scored road project on the list under consideration it is hard to understand why CAMPO would now go back to ignoring road importance and priority and make it the only "Ranked list' road not to be included in their updated scenario proposals.
Also note if federal dollars from stimulus come in, then the lower priority but shovel-ready projects can always be funded at that time – since these funds typically favor quick start projects for stimulus. That is quite different than strict priority funding which must ensure the most important projects like 620 will get done with the money in the budget.
Take a look at the picture of cat 7 projects sorted by evaluation score (highest on top):
Key for the image:
* Green colors are part of latest CAMPO June 1 scenario a-c recommendations; light green are non- road projects; dark green are roads.
* Red-ish, brown-ish were projects in the May 27 Rank / score based list but are no longer recommended. Note the lighter colors are not roadways – only the Anderson Mill / 620 is a roadway construction project which is now exclude but made the score based cut.
* Grey are out of consideration for other reasons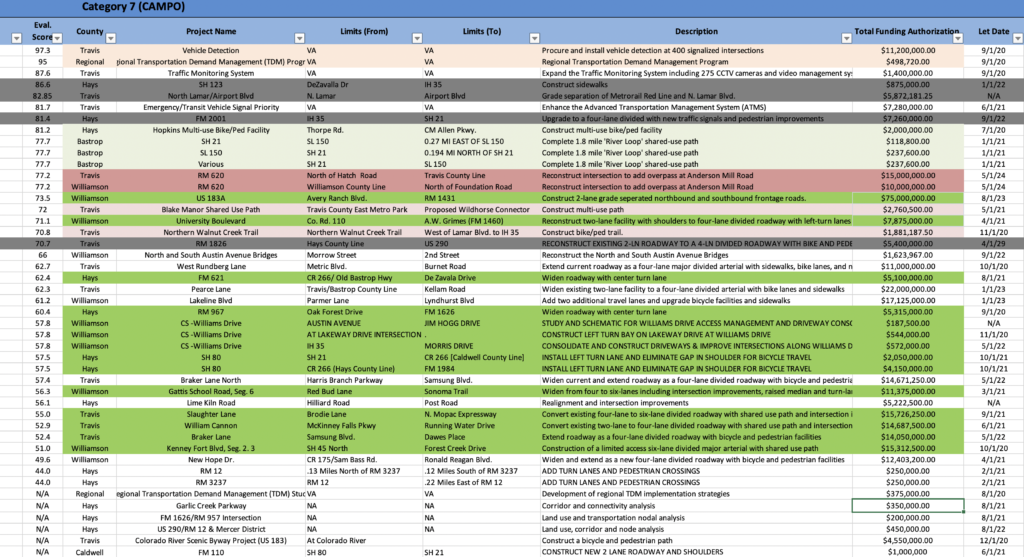 Note this is just a sorted and colorized version of CAMPO's posted deck here: https://www.campotexas.org/resource-catego…/meeting-agendas/ under "June 2020"
END OF UPDATE
<<<<<<<
>>>>>>>>
UPDATE: April 20, 2020:
CAMPO has delayed voting on deferred Category 7 projects until June 4th so that they can do project scoring to help in the selection. This improved news means that the Anderson Mill Rd. and RM620 overpass is back in the mix as a possible project to maintain its funding. This is still TBD and we have encouraged CAMPO to consider the safety and gridlock existing on RM620 in their decision.
See video for the April 20 meeting and hear community comments and encouragement here (a number of them start at 1:17:30): https://47kzwj6dn1447gy9z7do16an-wpengine.netdna-ssl.com/wp-content/uploads/2020/04/CAMPO-TPB-Meeting-April-20-2020-20200420-1858-1.mp4

In addition, CAMPO is NOT actively re-evaluating funding for the other RM620 / Loop 360 projects we listed below – as far as we can tell they will be deferred / defunded to support the now $633 million in projects being traded off for IH-35.
Your voice matters – please see below how you can reach out to CAMPO!
The CAMPO 2045 survey remains open until April 27, 2020, this is important since RM620 not only needs to keep the previously approved projects funded and on track, but we need the next round of fixes TXDOT had proposed including express lanes and overpasses including at 2222 as recently covered here: http://steinerranchna.org/rm620-big-next-steps/.

END OF UPDATE
<<<<<<<
CAMPO is proposing to pull back funding for all previously approved RM620 projects and a significant number of Loop 360 projects. These deferrals and others will provide $600 million to help the state close the funding gap for their top priority project: IH-35. This includes deferral / pull-back of the recently approved overpasses at Anderson Mill Rd and RM620 last May.
These are some of the most critical projects from the proposed deferral list:
RM620 at Anderson Mill Road – overpass/grade-separation: $25 million, let 2024
RM620 from Lakeway to SH71 – widen from 4 to 6 lanes: $59 million, let 2022
Loop 360 at Spicewood Springs Road – overpass/grade-separation: $20 million, let 2022
Loop 360 at Lakewood Drive – overpass/grade-separation: $15 million, let 2023
Loop 360 (South x3 intersections) – overpass/grade-separation: $75 million, let 2025+
They are critical because they define life and work in the west Austin metro: gridlock on RM620 and Loop 360. We all know that gridlock has a daily impact on the livability, productivity and safety of our corridor. Both roads and in particular RM620 are also critical for emergency response time as wildfire evacuation routes.
Deferred projects will need to be funded again in the future by CAMPO, and will be delayed by an estimated 1 to 5 years. CAMPO has made no attempt to prioritize projects individually based on urgency – they indicated there is no uniform scoring between projects to allow for rapid prioritization – they used other factors instead. We think that it is still imperative to carefully select the most important projects to remain funded, that is, those which serve critical regional priorities and address existing traffic bottlenecks. Delays on these projects will cause real harm and impact to regional mobility and livability since these corridors are also a conduit for daily life.
The SRNA board has coordinated in recent days with other stakeholders and neighborhoods along RM620 including River Place, and Canyon Creek to develop messaging for CAMPO. The main point:
We ask that CAMPO prioritize major RM620 projects, and other regional connectors needed to address major existing bottlenecks. These projects should remain a top priority maintaining the original let dates when at all feasible. This should be done by maintaining some of the most critical projects in the plan now, or if not, then by re-funding these projects in a timely prioritized manner as any additional funds become available. Please commit to not defer these projects years down the line.

From SRNA and coalition supported messaging to CAMPO: http://steinerranchna.org/wp-content/uploads/2020/04/RM620-CAMPO-Input-April-2020.pdf.
YOU can take action two ways.
Complete and share the CAMPO 2045 survey: this is done every 5 years and will impact future funding priorities for RM620 for years to come. It only takes a few minutes to express your support for RM620 – please help spread the word:
https://www.campo2045.org/survey
Familiarize yourself with the issues and contact CAMPO directly:
Email Individual CAMPO Board Member(s)
CAMPO will hold its next meeting Monday to decide on the $600 million deferral so please provide your input before then. Several stakeholder groups from the RM620 corridor plan to speak including SRNA in support of RM620 projects.

You can read information from the last CAMPO meeting here:

Summary of RM620 criticality / justification to CAMPO:

RM620, between US183 and US71, serves as a significant regional corridor. As the only major north-south connection on the west side of the Austin ETJ, RM620 connects west Austin, western Williamson County, and southwest Travis County.
RM620 is presently under-developed, with significant congestion and delays, especially at critical intersections. Major RM620 projects previously approved by CAMPO are critical stop gap measures essential to its functionality. Any significant delays in construction will cause real harm and impact to regional mobility and livability since this corridor is also a conduit for daily life. Significant growth in the west Austin metro area including in both Williamson and Travis counties has led to continuing demand on RM620 which is expected to continue, with traffic getting worse year over year*1.

(A): RM620 connects regional growth. From TXDOT RM620 Feasibility Report (overlay) with Population Rate Change 2010-2017 (from CAMPO 2045 draft) (underlay, red growth key)

RM620, as a ridge-line arterial, is the only option for emergency responders and existing gridlock slows critical response times, threatening the safety of those who work, live and travel in the corridor.
RM620 is a major evacuation route in the event of a wildfire, running directly through high risk wild-fire areas with large population centers*2. Evacuation routes depend on a functioning RM620 with sufficient throughput; RM620 was shown to not have sufficient capability to handle a relatively small-scale wildfire incident in 2011 and the traffic/population have since grown dramatically.

(B): RM620 is a critical evacuation route. From TXDOT RM620 Feasibility Report (RM620 connectivity overlay); Texas A&M Texas Wildfire Risk Assessment Portal (underlay, wildfire risk key)

The Anderson Mill intersection is projected as the most congested on the RM620 corridor given its current failing state*3, once construction finishes at RM2222. A $25 million overpass for this intersection was approved by CAMPO in May 2019 at the same time as $400 million was approved for IH35. This critical improvement is set to let in 2024, an excruciating wait for the corridor, which can ill afford additional delays. Along with widening RM620 south in Lakeway / Bee Caves, these projects constitute a sorely needed investment in this major arterial.
Federal stimulus dollars may be invested in the future and selected projects are likely to be those which are shovel ready. This further raises the importance to maintain focus on critical regional projects such as RM620. While not shovel ready today, these projects are highly time sensitive, should remain a top priority for funding, and should not get delayed in implementation if at all possible.

RM620 References:

(*1) TXDOT RM620 Feasibility Report, 2017: http://ftp.dot.state.tx.us/pub/txdot/get-involved/aus/rm-620/corridor-study.pdf,

See insert figures for overlay RM620 Regional Connector map (blue/green lines)

(*1) With continuing travel demand on RM620 due to regional and corridor growth TXDOT has projected 10 lanes will be the minimum needed between US183 and RM2222 by 2035, versus the current 4 lanes of travel.

See inset figure (A) showing RM620 connecting areas of extreme growth – also referencing CAMPO 2045 historical growth map.

(*3) The Report Indicates that RM-620 will be in a failing state even after the RM-620/RM-2222 intersection improvements (bypass, 2222-widening) are completed in 2021, including:

@ Anderson Mill Road (worst delay / LOS)
@ RM-620 (2nd worst delay / LOS)
@ Cavalier/Aria Drive in Lakeway (near Lake Travis High School)

(*2) RM620 supports a high risk wildfire area and serves as a major wildfire evacuation route.

See inset figure (B) referencing the Texas A&M Wildfire Risk Assessment Portal. RM620 is in high to very-high wildfire risk areas and a critical evacuation route.

RM-620 was the #1 cited roadway by the public for improvement for both Travis and Williamson counties with special emphasis on US-183 through RM-2222
Based on the CAMPO 2040 plan public input conducted in 2015 and other studies

From CAMPO 2040 Plan, Table 6: Priority Projects Identified by Respondents to Survey:

Travis County, top priority:
1. RM 620 – Anderson Mill Rd. to SH 71 W
2. Interstate 35 – Travis County – SH 45 North to SH 45 SE
3. SH 45 – US 183 W to RM 2222 – Extend SH 45

Williamson County, top priority:
1. RM 620 – US 183 to Anderson Mill Road
2. Interstate 35 – Williamson County – SH 45 N to SH 195 N
3. Anderson Mill Rd – Parmer Ln to Loop 1

From the CAMPO 2016 TIP Plan, which highlighted RM 620 as the most cited roadway based on public input, with 78% of all comments pertaining to this roadway; (from Community Outreach Report, 2017-2020, Transportation Improvement Program (TIP), Spring 2016)

Click HERE to read the PDF version of this summary input to CAMPO: "Preservation of priority funding for critical RM620 projects while reallocating $600M for IH 35."

NOTE: we are working together as a corridor (multiple neighborhoods, etc.) to develop a unified view of this challenge; if you have ideas how to augment the view or want to add your voice, please reach out so we can work together as a unified coalition (steinerranchna@gmail.com).