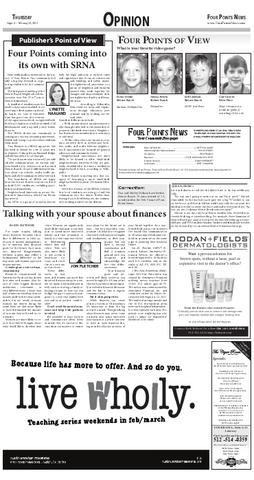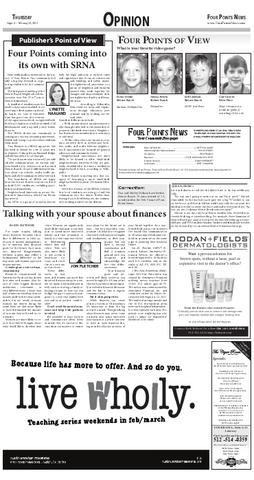 The following is from this week's Four Points News' Publisher's Point of View
Next week marks a milestone in the history of Four Points. Our community will take a big step forward in organizing residents for the common good. The first general meeting of the Steiner Ranch Neighborhood Association is on Feb. 29 At 7 p.M. At Steiner Elementary.
A handful of residents saw the need to have a more unified voice over future development and traffic issues, etc. Lots of volunteer time has gone into the creation of the organization which is registered with the City of Austin so it will be notified of all development and proposed policy within the area. The SRNA shows our community is coming into its own, becoming more established, and trying to protect what residents value most.
Tina Beamer is a SRNA supporter. She has lived in Steiner for over 12 years, first in Majestic Oaks and now Emerald Ridge, and she has seen a lot of changes. "I hope this new association will provide reliable communication on various subjects beneficial to everyone in and around Steiner Ranch. I hope it addresses information about our schools, roads, traffic updates and other community news," she said.
The boundaries of SRNA are larger than the Steiner Ranch footprint and will include 5,000 residences, including apartments, and businesses. Neighborhood Associations are not Homeowner Associations, which Four Points has several. An HOA is a group of property owners with the legal authority to enforce rules and regulations that focus on restrictions and building and safety issues. A neighborhood association is a group of neighbors and business owners who work together for changes and improvements such as neighborhood safety and beautification. According to Wikipedia, NAs reinforce rules and regulations through education, peer pressure and by looking out for each other. Some key differences include:
HOA membership is mandatory generally through rules tied to the ownership of property like deed restrictions. Neighborhood association membership is voluntary or informal.
HOAs often own and maintain common property, such as recreational facilities, parks, and roads, whereas neighborhood associations are focused on general advocacy and community events.
Neighborhood associations are more likely to be formed in older, established neighborhoods, whereas HOAs are generally established at the time a residential neighborhood is built, according to Wikipedia.
Steiner Ranch is moving into that category of becoming a more established neighborhood with about 200 homes left to build. With the creation of the SRNA, it shows that local residents are trying to lead the community into the future. Rather than leaving it up to the developers, the community is taking hold of its own destiny.